New OB/GYN chairman named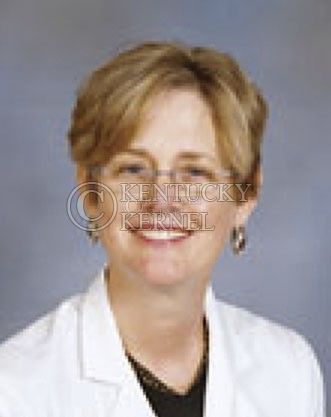 The new chairman of the UK Department of Obstetrics and Gynecology is taking on challenges and setting goals.
Dr. Wendy Hansen was recently named the new department chair and said she wants to make sure her department is in line with the effort to make UK a Top 20 university by 2020.
Hansen said she wanted to "build something" and that is what brought her to UK.
"[My job is] to take a step back and be the guardian of the entire department," Hansen said.
Hansen specializes in high-risk pregnancies.
Originally from Detroit, she started her career as a nurse with a degree from the University of Michigan, and later went to medical school at Northwestern University.
She completed her residency at the University of North Carolina at Chapel Hill, where she met her husband and had her four children.
Six years ago she came to UK from the University of Iowa and became the division head of the Division of Maternal Fetal Medicine.
She will retain that position while she takes on her new responsibilities as chairman.
Hansen said her main responsibility is to be the "chief of service," in which her job is to "make certain that the clinical care of all our patients is excellent and safe."
She said she also wants to continue fostering research within the obstetrics and gynecology and lend support to that.
John Allen, department administrator, has worked with Hansen for the past five years and said Hansen brings leadership skills in education and administration to the department.
He said Hansen is working on planning to bring together different services to create a comprehensive women's center.
A comprehensive women's center is where services are put together "on an outpatient scale" so women can come in and have services they frequently need all in one place, Hansen said.
Hansen said that right now the center is just an idea, but she hopes to organize it.
Overall, Hansen said she likes being the department chair because it brings challenges.
"One of the challenges will be for the department to stay fiscally responsible as we transition into healthcare reform," she said.
Hansen said another challenge is to continue to build up a patient base. She wants the ability to compete with two other hospitals in baby care "so that we can continue to have same number of deliveries and provide outstanding care."
Hansen has been interim chair of the department for a year since the previous chair, Jeff Ferguson, resigned. In September, she was named permanent chair.
Allen said that with Hansen as chair "the department will be more cost effective and efficient in our pursuit of the highest quality and excellence in women's health."
Allen works with her on different financial and business issues regarding the department.
"She has brought a lot of transparency to the department," Allen said. "She is easy to work with and is very compassionate and understanding."
Hansen said that though it has been 17 years since her residency, she still enjoys her job.
"I still love coming to work each day," Hansen said. "I am not bored."