Creator of Fark.com kicks off Technology Week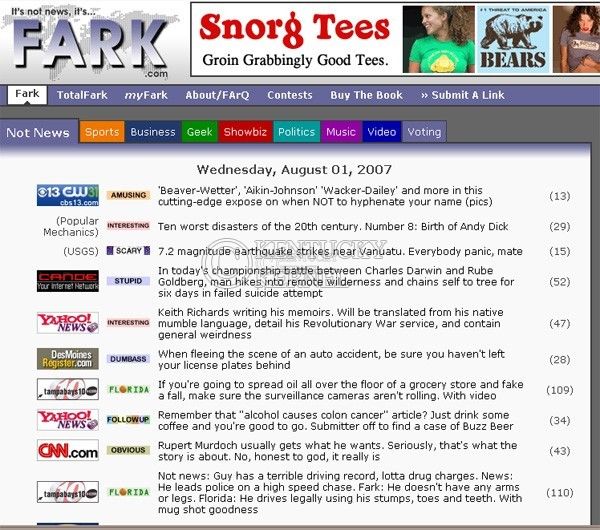 By Taylor Riley
A Lexington native and website creator returned home to help kickoff UK's College of Communication and Information Studies Technology Week.
Drew Curtis, Fark.com creator, told students about his website self-described as a "news aggregator and an edited social networking news site."
The site was established in 1999 and has become a popular link in its 12 years of life.
Curtis said when he began, he found it hard to locate information to put on the website because the internet was just starting off. When he launched the site, he never intended it to be a business. Curtis started the website at 26 years old and has received much recognition since then.
Curtis now lives in Versailles frequently makes trips to bigger cities such as New York City and Los Angeles for ad sales.
"I enjoy the traveling and meeting people, even celebrities," Curtis said. "I've met Adam Savage, members of Fountains of Wayne, and Tucker Maxx, who all enjoy the website."
The website, updated daily, hand picks unusual news stories sent in by readers to post. Categories for readers include. Hot news, Sports, Business, Geek, Showbiz, Politics, Music and Video.
Readers can click on a link based on their interests in and the link will take them to a specific website to read the article. Readers can look at the left side of the headline to see if the headline will be amusing, stupid, ironic, scary or silly.
Curtis is seemingly happy about how his business is going but he is also looking to expand the company in the near future.
"I'm thinking about updating features soon. I'm now basically catching up to Facebook," Curtis said.
Curtis' forum is only the beginning of Technology Week. This week is the College of
Communication and Information Studies event but is intended to bring the other colleges together as well.
"We have several units that direct to technology, UKID, UK libraries, Journalism and Communication majors and several others," said Konstantin Tovstiadi, Information Technology coordinator of the Communication and Information Studies.
Technology Week started Monday but is open to the public again Tuesday and Wednesday with no registration needed.
These days are joint lectures based on "Transparency and Open Access to Information" held in the Niles Gallery in the Fine Arts Library from 9 a.m. to 12 p.m. These forums are to focus on anything from library technology to government technology and open source codes and projects.
Thursday and Friday are closed seminars for faculty, UK IT and technology students discussing a crash course on mobile technology. Students and faculty who have already signed up for these lectures can go the Grehan Journalism building from 1 p.m. to 5 p.m.
The series will discuss new IPhone apps and new mobile development software.