Wilson trying to do better than good enough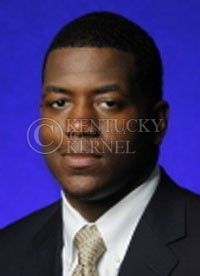 Sophomore linebacker Ridge Wilson has a mantra he tries to live by:
"If better is possible, good is not enough."
It's tattooed on his arm, and written on a cast he's wearing on his hand, so he'll be able to see it when he lines up for his first career start this weekend even when his jersey covers his tattoo. Wilson was in the mix to start at strongside linebacker in fall camp before losing out to senior Jacob Dufrene.
That wasn't good enough for him.
Losing the position battle made him go back to the drawing board. In high school, the 6-foot-3, 240-pound Wilson made most of his plays on pure athleticism. He was also a basketball star at Central High School in Louisville. But starting his sophomore year on the bench made him realize that wouldn't cut it anymore.
Since then, he's redoubled his efforts. Senior linebacker Ronnie Sneed said Wilson has focused on understanding the game this season.
"You could tell, since camp, that his whole attitude is different," Sneed said. "He's more involved in the weight room and the film room than he was before."
That could be especially important on Saturday, when the Cats (4-4, 1-4 Southeastern Conference) face a physical Mississippi State (6-2, 2-2 SEC) team. When Mississippi State upset then-No. 22 Florida on Oct. 16, quarterback Chris Relf finished with just nine passing attempts and 33 yards through the air. But the Bulldogs finished with 49 carries as a team for 212 yards.
"Mississippi State is a very physical team, from special teams to offense and defense. We have to bring our 'A' game," Wilson said. "It's going to be a very downhill, smack-you-in-the-mouth type game."
UK is giving up over 176 yards per game on the ground, second-worst in the SEC. and the Cats have had 22 rushing touchdowns scored against them. Mississippi State is second-best in the conference with 219 rushing yards per game. Wilson said that during last year's 31-24 loss to Mississippi State, in which Bulldog tailback Anthony Dixon had 252 rushing yards, the now-departed Micah Johnson told Wilson that it was one of the most physical games he had ever played in.
Wilson certainly took a roundabout way to his first career start. He was one of the most sought-after recruits in UK's 2009 class and was a standout on special teams early last year as a true freshman before an off-field incident derailed his season. Wilson was arrested on Sept. 15 and charged with fourth-degree assault. Former UK coach Rich Brooks suspended him, and he failed to register a tackle the rest of the season after he returned.
After being beaten out by Dufrene, Wilson said he was frustrated with the coaching staff. He felt his play had earned him the right to start, but that was just the beginning of his learning.
"Me and (linebackers) Coach (Chuck) Smith argued about it," Wilson said. "He cussed me out, told me to be quiet, told me to stop crying. I was really worried about him taking me out and what he was going to say rather than playing. When I hushed my mouth and started playing like I knew I could, I got that confidence back."
Now that he knows he's good enough, he couldn't be more excited for his first start.
"It's what you play football for," he said.