Hartline suspended for bowl, football recap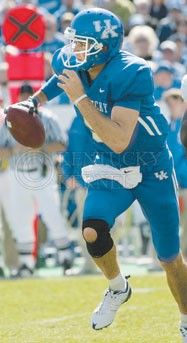 Senior quarterback Mike Hartline has been suspended for UK's bowl game on Jan. 8 against Pitt, UK head coach Joker Phillips announced at practice on Saturday.
"Mike Hartline will be suspended for this game, which is his last game," Phillips said. "Mike Hartline has had a good record here conduct-wise, and I regret that this happened, but it did. I really hate that it happened because of what he's done for us this year, leading this program to our fifth-straight bowl. He's done a great job at that. But we have clear expectations for our players, how we want them to act, how we want them to behave. Therefore, we're going to suspend him for this game."
Hartline was arrested on charges of alcohol intoxication, disorderly conduct and failure to notify address change to the Department of Transportation at 3 a.m. Friday, according to a police report. A lawyer pleaded not guilty on his behalf during his arraignment Friday afternoon.
"We've got 120 guys on our football team, and the vast majority of the time, our guys are doing what they're supposed to do," Phillips said. "However, when something like this happens, we have to hold them accountable."
Hartline addressed the team Saturday morning after being informed of Phillips' decision. The suspension leaves sophomore quarterback Morgan Newton as the No. 1 quarterback for the bowl game, but redshirt freshman Ryan Mossakowski will have the opportunity to win the job before the bowl game.
"I'm happy about the opportunity," Newton said. "I'm not necessarily happy about how it happened, but I guess you have to seize the opportunity."
Newton posted a 5-3 record as a starter last year when Hartline was injured, securing wins at Auburn, Vanderbilt and Georgia before losing the Music City Bowl.
Hartline will remain with the team through the bowl game and will travel to Birmingham.
"I'm behind Mike in whatever he does, whatever happens," junior receiver Randall Cobb said. "What happened, happened, but the story isn't all the way told, so if you're basing your opinion off of what you hear, you need to step back and put yourself in that situation. You don't know what happened. I am a little disappointed, but I'm going to be behind him regardless."
Cobb said he understands why athletes can be held to a higher behavioral standard than other students.
"We put ourselves in that position," Cobb said. "We're held to a higher standard regardless of if we want to be in that position or not, and we just have to be able to control that."
New faces at practice
A pair of new assistants were at practice Saturday morning. Steve Pardue, former head coach at LaGrange High School, and Rick Minter, previously the linebackers coach at Indiana State, were both present.
Phillips couldn't confirm their hiring because UK's policy dictates that jobs must be posted for one week before they can be filled. Pardue will likely be named the running backs coach following the departure of Larry Brinson, and Minter is expected to fill the vacancy left by Chris Thurmond.
Minter will also likely be the co-defensive coordinator for the Cats with incumbent Steve Brown.
Phillips and Pardue have forged a close relationship as Phillips has heavily recruited players from LaGrange, including Wesley Woodyard, Braxton Kelley, Demoreo Ford, Qua Huzzie, Randall Burden, Joe Mansour, Mychal Bailey, Tristian Johnson and others.
Minter hired Phillips as wide receivers coach for Cincinnati in 1997 during his 10-year tenure as head coach for the Bearcats. Phillips spent two years on the staff. He also served as defensive coordinator for Notre Dame from 2005-07.
Porter asks for release
Freshman defensive tackle Elliot Porter has asked for and been granted his release. Porter, a Louisiana native, arrived at UK just before fall camp started after being released from his university scholarship at Louisiana State when the Tigers had signed too many players.
He redshirted this year, and was said to be battling homesickness last week while pondering his future with the Cats.
"He wants to get closer to home, that's understandable," Phillips said. "I feel for him and the situation that he was put in, but he came here, gave it a chance. He just feels like he just wants to get closer to his family."