Greeks' grade hike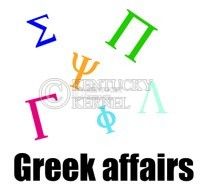 Editorial by Kernel Staff. E-mail [email protected]
More brothers may have to hit the books, thanks to new academic measures being taken by the Greek system.
A Nov. 22 Kernel article said that fraternities at UK are raising their organizational grade point average membership requirement to 3.0.
The article said that the change would be implemented over the course of the next three semesters, with the minimum GPA rising from its current 2.88 minimum to 2.9 by spring 2011, 2.95 by Fall 2011 and 3.0 by Spring 2011.
This new measure promises to help ensure fraternity members' academic success. To ensure compliance, the Kernel article described how fraternities will practice incentive and punitive measures.
The article said chapters that "make continuous improvement" to raise organizational GPA may have more time to reach the 3.0 goal and those who go above 3.0 will have their Interfraternity Council dues decreased incrementally (from $75 reduction for a 3.2 organizational GPA to $275 for a 3.4 organizational GPA).
Chapters that don't meet the new standards may have to meet with their national fraternity adviser, lose their Interfraternity vote, be under social probation, be excluded from intramural participation and lose the right to recruit freshmen in the fall.
One of the major selling points of sororities and fraternities to freshmen-to-be when they come to campus advising and pre-semester events is that Greeks maintain higher GPAs on average than non-Greeks.
While these academic goals may seem somewhat lofty, they are necessary if Greeks want to maintain this bragging right. It puts pressure on all members to perform well in the classroom and to conform to a higher standard. And isn't that the point?