Miller urged to improve; Poole to take Hood's minutes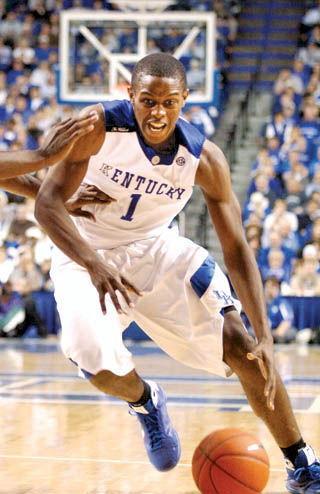 Throughout the course of the preseason and the games played, Darius Miller has been incessantly asked about his leadership, his role on the team and his ability to finally produce according to expectations.
Whether or not he's met those expectations doesn't matter, at least not anymore, after his coach ratcheted up the expectations for him after a nondescript game in UK's 72-58 win over Notre Dame.
"I just want him to be one of those guys everyone in the country talks about," UK head coach John Calipari said. "Because I think he has that ability."
His stats are solid, but not spectacular. Miller is averaging 9.9 points and 5.3 rebounds in 28.8 minutes. He has 13 assists on the year, but also 12 turnovers.
It's been inconsistency that defines his game right now. Against Boston, Miller recorded zero points in his seven minutes of the first half, and didn't attempt a field goal until a second-half 3-pointer. He scored three points in the first half against North Carolina, and then scored 10 in the second half.
Against Notre Dame, Miller had two points in the first half — on two free throws, and without attempting a shot from the floor — and scored five in the second half. Calipari made note of Miller's zero rebounds at halftime, as well.
"Darius is not playing as well as he can, but he's playing OK," Calipari said. "But I want you to look at him and say, 'Wow.' You're not saying that right now. There's something holding him back from you seeing that."
Calipari said he has been holding regular meetings with his players in the hopes of maximizing their performance. He's trying to draw that "something" out of Miller.
"He could be as good as anybody in the country," Calipari said. "He can shoot it, he can handle it, he's a smart kid, he's got enough athleticism. Not the greatest athlete, but athletic enough, he can dunk on you."
Poole to get Hood's minutes
Calipari said Stacey Poole would move up and replace Jon Hood in UK's rotation after UK's 72-58 win over Notre Dame.
"I think at this point I'm going to move to playing Stacey Poole now, so he'll move into the rotation in front of Jon Hood, and let (Poole) go," Calipari said.
Poole scored the first three points of his career against Notre Dame. With UK down nine points late in the first half, Poole hit a 3-pointer at the front end of what turned out to be a 19-2 run that gave UK a lead for good.
As for why Poole was moved up in the rotation, Calipari said, "Defensively. Let him get Jon's minutes and let's see if he can do better. He deserves an opportunity too."
Hood also hit a three in the game, but grabbed zero rebounds.
"You just have to come up with balls and get tough," Calipari said.
Hood has played 55 minutes this year. Poole has played 17.