Knight's earned the right to get after teammates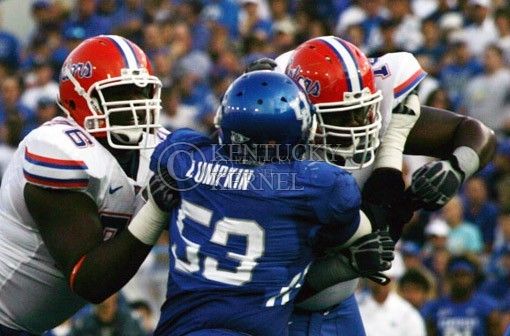 Brandon Knight has earned the right to instruct his teammates when they do something wrong. Yell at them, even.
Against Penn, Knight tore into Eloy Vargas after Vargas defied what he's been taught by going after a loose ball with one hand. A few games ago, Knight reprimanded a teammate for fouling late in the game with UK holding a comfortable lead.
"They know if I don't get on them, Coach (John Calipari) is going to get on me," Knight said. "So it's kind of an understanding, really, them knowing that I just want the best for them and the best for the team."
Leaders have to earn that type of respect. For a freshman, earning it — rather than passively assuming it's yours — is even more imperative. Knight's done that by transforming into a pass-first teammate looking to get his teammates good shots.
"He can say whatever he wants now," Calipari said. "Early in the sesason, you can't speak much. I'm looking at you, like, c'mon man, how about passing the ball?"
It can be a testy situation if players aren't receptive to teammates getting on them. UK hasn't seen any of that.
He's our point guard, and you always listen to your point guard," Doron Lamb said. "I don't get upset, because if I'm doing something wrong I want someone to tell me what I'm doing. I'll sit down, listen to him, and do the right thing after that."
Of course, Knight is still learning himself. He goes over and talks with Calipari on the sidelines nearly every break in the action, even if there isn't anything Calipari needs to say. He huddles the team and relays the plan. His thoughtfulness and willingness to learn led Calipari to say Knight is the least of his worries.
"He's running us out there, getting us in huddles, getting us where we need to go," Josh Harrellson said. "He's been a great vocal leader when coach isn't out there with us."
Knight has been slowly decreasing his amount of turnovers. He had 33 in the first seven games. In the next seven, he's had 21.
"I'm so proud of him," Calipari said. "How many of you were in Hawaii (for the Maui Invitational) with us?  Different player, isn't it.  Different player."
Even as he's transformed into a pass-first point guard, he's been able to get his points. He's averaging 18.3 per game, and he's scored 15 or more in 11 of 14 games. And he's shown a knack for the big shot. When Louisville made a second-half run and cut the lead from 18 to nine, Knight hit a three-pointer and got the the free throw line on two subsequent possessions. Knight also hit a three-pointer during UK's rally from 10 down at the end of the first half that cut the deficit to two points.
"Lately, he's been taking the big shots when we need them, he's getting us back into games, he's changed the momentum," Harrellson said.
One thing Knight has been urged to improve is his defense. Against Louisville, Calipari said Knight got scored on for 87 percent of the Cardinals' points. Against Penn, Calipari pointed to Knight's improved defense as another sign of his point guard listening and applying those lessons.
"Coach really didn't have anything to say," Knight said. "If I got fried, he would've said something."