Students transform walls with art; project provides hands-on environment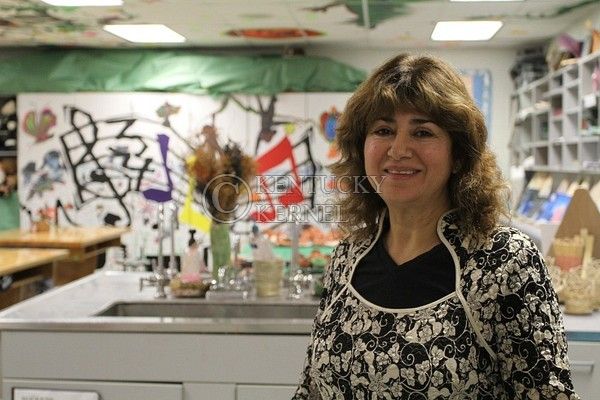 By Brittney De Jaco
UK art students are taking their artistic talents to local middle schools this spring.
Throughout the semester, UK art professor Dr. George Szekely has been taking his students to Jessie Clark middle school where they have had the opportunity to take part in a unique project in Dolly Dressman's art classroom.
By choosing to paint the walls and other parts of the classroom to cover their cracked or dingy surfaces, students from both schools have been able to transform the room into a mural of nature scenes, creating what Dressman refers to as "the museum" of her students' artwork.
Szekely teaches the class "Methods for Teaching Middle School," and became involved in the project because he is a part of the Adopt-A-School program.
The project allows Szekely to take his students to a local middle school where they can apply what they have learned in his classroom to a hands-on environment.
To Szekely, this hands-on environment is more important than any lecture he can provide.
"Kids are more influential than a classroom or textbook can be for [my students]," Szekely said.
When he began to learn of Dressman's new project, Szekely said he was overjoyed to become a part of it and have his students see a teacher with such new and inventive ideas.
"It is important to see an art teacher change the room," Szekely said about Dressman's teaching style. "She is really an artist teacher."
Szekely also said Dressman's classroom has set an example as to what an art classroom truly should provide.
"This makes it a place that doesn't feel like school," Szekely said. "You can enter this fantasy place that you can't get anywhere in the school."
Dressman was a graduate student in Szekely's class, and Szekely said he is proud of the teacher Dressman has become.
"She has so many great ideas," Szekely said.
Dressman said the idea for the project began when her class noticed a stained tile on the ceiling and decided to paint a sun over it. From there the project took off.
Students began with a rainforest theme which has grown to other scenes, such as sea life, safari and dinosaurs.
However, Dressman said it still seems there is always something they've forgotten.
"Every time we think we are finished, we're not," Dressman said. She said this allows the students to keep adding to the beauty of the room.
Jane Morris, a counselor at Jessie Clark middle school, said she loved seeing the excitement students showed when working on the project.
"They felt like they were doing something special and important," Morris said.
Although she has received attention for the project, Dressman is still focused on the students.
"A teacher who brings out their students' creativity without fear…that's what I try to be," Dressman said.