Tech columnist makes a valid point: Gillispie deserves a job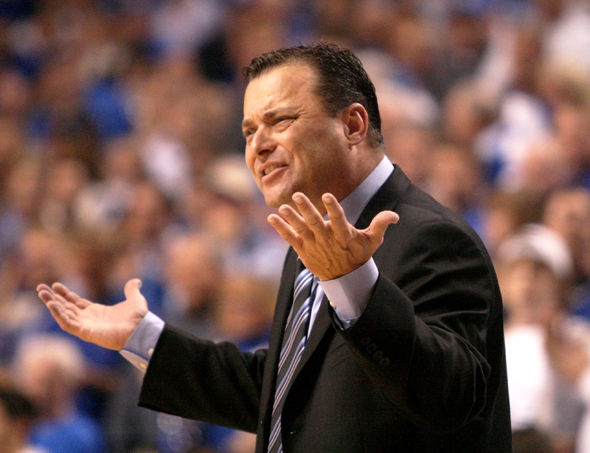 Billy Gillispie is a wanted man.
No, not for driving under the influence.
On the contrary, Gillispie is wanted thanks to a movement in the college town of Lubbock, Texas, home of an apathetic fan base and the Texas Tech Red Raiders, who are tied for 10th place in the Big 12 and, barring a miracle, en route to missing the NCAA Tournament—where current Tech head coach Pat Knight, son of the legendary Bob Knight, has yet to take his team in his three-and-a-half year tenure in charge.
Enter what has been dubbed the "Get Gillispie" campaign, which includes a group of Tech students who have sported T-shirts with an Obama-esque visage of Gillispie on the back accompanying the word "change," in the hope of persuading their school to pursue Gillispie if and when Knight is fired.
Many UK fans might consider any person or team's desire to hire their oft-scrutinized former head coach downright lunacy, but Jon Arnold of The Daily Toreador, Texas Tech's student newspaper, explained his reasoning for supporting the movement in his Feb. 24 column "Get Gillispie group deserves support."
"I've never been to Lexington, but I imagine the Tech basketball team to be like the UK football team up there," Arnold said. "Tech fans are completely indifferent to Tech basketball."
To speak to that indifference, much of the feedback Arnold has received about his column hasn't come from the Lubbock community, but rather UK fans warning against a potential Gillispie hire. Moreover, the column hasn't been a talking point of Lubbock media outlets, but has garnered the attention of Kentucky-based media (add the Kernel to this list) and blogs.
Currently, getgillispie.com redirects to a Facebook group with a modest 795 members, a number that Arnold said parallels the number of students one might find in Tech's student section at basketball games— it should be noted that Tech's student tickets are free.
Arnold estimated that 90 percent of the student population at Tech would be unaware of Gillispie's off-the-court failures at UK. Better yet for Gillispie, he wouldn't be burdened by the statesmen-like responsibilities at a school where "football isn't the foreplay of basketball season," Arnold said.
Whatever Gillispie's future may be, the UK community shouldn't care if another school hires him because is in no way will his hiring at another school adversely affect the Cats.
Granted, Gillispie's two seasons in Lexington were forgettable, save for the fact that some fans still dwell on this era, but he didn't damage the UK program beyond repair; the Cats found comfort in UK head coach John Calipari, a man who has restored UK basketball to a national powerhouse in a snap.
Therefore, UK fans need to put aside the schadenfreude. The marriage between Gillispie and UK didn't work out, but consider that roughly 50 percent of marriages end in divorce. It's time to stop being a sourpuss. Even the players are over it.
UK senior Josh Harrellson, one of three holdovers—along with juniors Darius Miller and DeAndre Liggins—who slogged their way through the Gillispie era said that "when we look back on it now when we all get together, we just laugh about it."
Why shouldn't Gillispie be allowed to coach basketball again, something he did quite well for most of his life, without disapproval?
It seems more and more likely that the question is "when" he will land another job, not "if."There was speculation last month that Gillispie was a frontrunner to land the coaching vacancy at Wyoming.
The Tech job seems more of a natural fit: A Texas native coaches a struggling hoops program at a Texas school in a familiar conference (Big 12) and sparks a turnaround a la what Gillispie managed at Texas A&M (let's not forget the 18-win improvement he managed between his first and second year at Texas El-Paso either).
"The (Tech) job would be out of the spotlight, he's been in a similar situation before at A&M, and basketball will be supported if it is good," Arnold said.
Gillispie could make Tech basketball or any other fledgling program "good," yet he failed to be "great" at UK. Few people can attain such heights in the coaching profession, especially when the fan base wants nothing except greatness.
Now, others want something a little more realistic from Billy G, the wanted man once more.