Rifle team wins national championship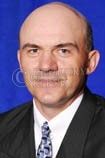 The UK rifle team won the first national championship in program history on Saturday, holding off West Virginia 4700-4697 in Columbus, Ga.
The Cats have finished in the top 10 nationally 16 times since 1994, but had never won the team championship outright. The team has been led by head coach Harry Mullins since 1987.
"I am so proud of this team," Mullins said in a UK athletics release. "This was our goal from day one, to have a chance to shoot a 4700 as a team. We knew if we did that we would be right there at the end. It is a tremendous honor to come out on top among such a great group of teams and shooters. We have had a magical season and it is surreal to be standing here at the end of the year as the national champion."
The team was led by junior Ethan Settlemires, who won an individual NCAA championship in smallbore, and sophomore Heather Greathouse. The Cats claimed the team championship for the smallbore on Friday as well.
The Cats also finished the year with an undefeated regular season in the Great American Rifle Conference.