Miller goes to China — does he come back better?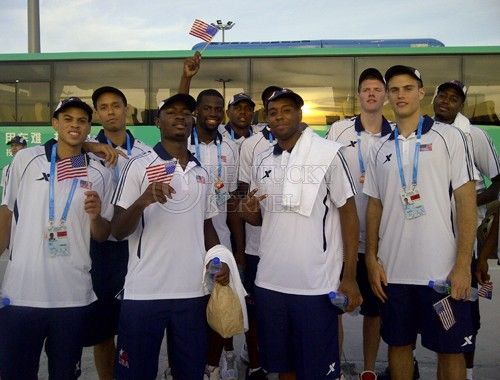 UK guard Darius Miller is traveling around the world to China for a basketball tournament. Will he return a better player?
Barring a complete destruction of self-confidence should he get dunked on by a 5-foot-9 foreign player, yes. Playing more basketball with good players and good coaches will help. Darius Miller post-China should be better (and more cultured) than Darius Miller pre-China. By how much, and improved in what aspects, is harder to determine, but anyone associated with international competitions invariably says it's a beneficial experience.
Incoming freshman point guard Marquis Teague, who played for the 2010 U-17 team that won a gold medal, said late-round games bring a different kind of pressure. The U.S. is widely expected to win these 2011 Games. The team has won a medal in every competition since 1965, and this is typically one of the weaker international events played. If the U.S. advances deep in the tournament, the pressure will be that of finishing the job as an expected favorite — where Miller and UK will often find themselves.
Teague's coach in that tournament, Don Showalter, said it helps players with their abilities to form a cohesive team with players they just met. Players on international teams have a limited time frame to learn an offense, adjust to teammates, and prove themselves worthy of playing time. Miller had 10 days of training sessions with his teammates before they jetted off to China. At UK, he will have to assimilate himself with both new freshmen and the new versions of forward Terrence Jones and guard Doron Lamb.
Memphis point guard Joe Jackson, who played for the 2011 U-19 team, improved his leadership and knowledge of the game. He had to break down film in front of teammates he had met just a few weeks before, pointing out when they mistakenly deviated from coach Paul Hewitt's system and how they could fix it. I have no idea if Miller is having to do this — I would guess not — but being thrown into a training camp in which you're taught a new offense can increase your understanding of the game.
Heading into the competition, Miller wanted to pick up some moves from the other players on the U.S. team and gather feedback from the coaching staff — which includes the head coaches from Purdue, Tennessee and Butler — on how he can improve. He got to go up against a different variety of players than he would have had he continued playing pickup games at UK.
The U.S. team has plenty of talent. With other good players around him — John Jenkins, Draymond Green, Ashton Gibbs — will Miller retain the assertiveness that Calipari requested, then demanded, throughout last season? In the team's opening game, Miller started and played 19 minutes, tied for third-most on the team. He scored two points on five shots and had eight rebounds, and John Calipari said yesterday that Miller was playing mostly at the power forward position. Those aren't bad numbers. Those aren't good numbers. But this trip's value won't be measured by his stat lines.
The most significant aspect of his time is how Miller fits into the team. He produced relatively insignificant numbers in the 2009 U-19 games, the summer after his freshman season, when he attempted the second-fewest shots on the gold-medal team. This time around, he's coming off a junior season that saw him battle against bouts of disappearing and a late-season stretch that proved he can transcend that label. But Miller does not enter this year with a clearly defined on-court role. Sure, he's going to be the "veteran leader." But while most teams can build around their solidified veteran leaders, UK and Miller do not have that relationship. He will most likely not be the centerpiece of the team, and it's unclear where exactly his place will be this fall. Instead, he will have to re-acclimate himself to a new group of teammates while finding a steady role to assume for himself.
If he assumes a vital role for the U.S. team — not the dominant role, but a vital one—- and proves he can produce on a consistent basis in each game, that will be the best indicator of what we could expect in his senior season.