The Week Two Edge: UK vs Central Michigan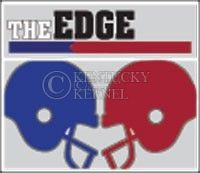 Breaking down the key matchups in UK's home opener against Central Michigan on Saturday.
UK wide receivers vs. their week one performance
In week one against Western Kentucky, UK junior quarterback Morgan Newton completed just seven passes for 97 yards. Remove guard Stuart Hines' six-yard reception and the receivers combined for just six catches for 91 yards; not the kind of coming out party the wideouts had in mind as they continue to adjust to the post-Randall Cobb era.
The receivers had their opportunities against WKU but struggled to hold on to the football, dropping numerous passes in key situations against the Hilltoppers. After the Cats narrowly escaped LP Field with a 14-3 victory, much of the blame for the team's struggles was placed on the receivers, leading to discussion of a shake-up at the position this week. But UK head coach Joker Phillips said following Wednesday's practice that the offense has regrouped in preparing for Central Michigan and that he is confident in his receivers to hold onto the football against the Chippewas.
"It was definitely a lot better today and a lot of that has to do with understanding what we are seeing on defense after studying Central Michigan for three days," Phillips said of UK's offense. "But we shouldn't have any problems throwing and catching the ball, regardless of who we are playing."
In the friendly confines of Commonwealth Stadium on Saturday, the receivers will finally have a second chance to prove to their teammates, coaches, fans and even themselves that they can find their niche in the offense and hold on to the football before UK reaches SEC play. If they fall flat again, Phillips has indicated that he is willing to give some younger receivers a look. With playing time and starting spots on the line, expect the receivers to come out of the tunnel on Saturday ready to impress.
The edge: The UK receivers playing for their jobs
UK offensive line vs. Central Michigan defense
The passing game was not the only thing holding back the Cats' offense against Western Kentucky; the running game managed just 93 yards on 33 carries week one. Likewise, in Central Michigan's week one matchup against South Carolina State, the Chippewas held the Bulldogs to only 59 yards on 43 carries, an average of 1.4 yards per carry.
Against the Hilltoppers, UK's offensive line looked helpless as it tried to be assertive in the trenches, providing few running lanes for the backs behind them to take. Center Matt Smith and right tackle Billy Joe Murphy were held out of practice this week, and their status for Saturday's game is still unknown. Toss Hines, who has practiced with the team this week but is still recovering from a sprained knee, into the mix, and UK's sturdy veteran offensive line suddenly looks vulnerable.
With two inexperienced backs, sophomore Raymond Sanders and true freshman Josh Clemons, splitting carries, combined with UK's lack of a true fullback, it will be up to the offensive line to live up to preseason expectations and establish a running game against Central Michigan.
The edge: The offensive line, because UK's running game will pose more of a threat to Central Michigan than South Carolina State's did.
Central Michigan quarterback Ryan Radcliff vs. UK's secondary
The Cats' defense looked dominant in week one, holding Western Kentucky to just three points for the game. But while players like defensive tackle Luke McDermott, linebackers Danny Trevathan and Ronnie Sneed and safety Winston Guy excelled close to the line of scrimmage against the Hilltoppers, the secondary, at times, was exposed. On two different plays in the first 20 minutes of the game, WKU quarterback Kawaun Jakes missed two wide open receivers in the end zone after his receivers blew past the UK secondary. Bringing Guy into the box as a safety helped UK contain WKU running back Bobby Rainey and put pressure on Jakes in the pocket, but it also left the rest of UK's defensive backs on an island in coverage.
Radcliff completed 14 of 27 passes for 168 yards, two touchdowns and two interceptions last week against South Carolina State. While his numbers were not overwhelming, he proved to the UK coaching staff that he is able to manage the Chippewas' offense and put the ball in the end zone through the air, more than Jakes could say a week ago. While Central Michigan may not be a national championship contender, when a receiver is open, Radcliff will find him, making it imperative that the secondary locks down on Radcliff's targets.
Senior cornerbacks Anthony Mosley and Randall Burden must show they can play one-on-one coverage in co-defensive coordinator Rick Minter's defense or the Cats will struggle to stop the pass. By adding pressure at the line of scrimmage, Minter hopes his defense will create more turnovers, an area in which UK struggled a year ago, but his secondary must respond in coverage for the defense to excel.
The edge: The secondary. While it may not be in midseason form again this week, the rest of the defense should be able to pick up the slack to slow down Radcliff's passing attack.
Overall edge: UK. Following last week's scare, Phillips and his team are eager to take the field again and prove to Big Blue Nation that they are ready to compete in the SEC and make a run to what could be their six straight bowl appearance.