Kyle Macy talks Calipari on Jim Rome, Calipari talks FIBA on NBA TV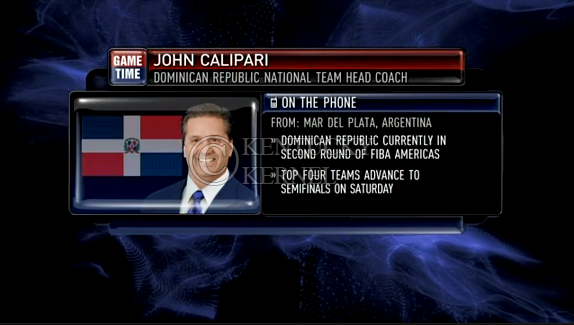 A few interviews relating to UK basketball:
First, Kyle Macy discussed Calipari on Jim Rome's show Thursday. Macy said he thinks a championship is imminent because UK "keeps knocking on that door, and soon enough, the door will open for you." Macy also talks about how long he thinks Calipari will be at UK and what type of job he's done with the program the last two years:
Second, Calipari appeared on NBA TV after the Dominican Republic's win over Uruguay (they since lost a game, but have still advanced to the semifinal round). He talked about the Edgar Sosa injury, the FIBA Americas tournament and what he's learning to bring back to UK. Some select quotes (video link below if you want to jump to the full interview):
"The hard thing (about Sosa's injury) was, we didn't know exactly what type of injury it was. So when we saw it, we thought it was career-ending. That's what shook us up. It shook us to the core. … The funny thing in this is, he was a Kentucky-killer with that shot. But our fans right now are jumping on the bandwagon, praying for him."
"This was one of the hardest things I've had to do. It's one thing saying, 'Cal, you get freshmen to buy in defensively every year.' But, one, there's players in place who have gone through it to help out, and two, I've recruited those guys."
"Let's define what Dominican basketball means. Tough defense, rebounding, getting 50-50 balls."
"I'm learning ways we [UK] can get into the Dribble-Drive now. The actions these teams use, hard cuts, space the court, mid pick-and-roll, kick-kick, the way these teams play is going to be good for (UK)."
Click the picture, via NBA TV broadcast, to go watch the video interview.