The week 6 Edge: UK vs. South Carolina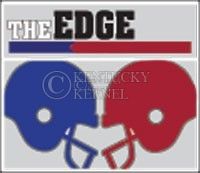 The UK offensive line vs. South Carolina defensive end Jadeveon Clowney
UK's offensive struggles in 2011 have been well chronicled by those close to the program.
The Cats' biggest concern on offense so far this year has been the offensive line. For the veteran group up front comprised exclusively of juniors and seniors, expectations were high heading into week one. But with five games now in the books, the line has suffered through injury problems and inconsistent play resulting in a soft running game and 21 sacks allowed, the third most in the nation.
Now enter Jadeveon Clowney, a 6-foot-6, 254-pound freak of nature who possesses a deadly combination of speed and strength on the defensive line. As the nation's top high school football player a year ago, Clowney had offers to play at almost any school in the nation but decided to stay in his native South Carolina and play for head coach Steve Spurrier. In his first five career games, Clowney has recorded 18 tackles, with three tackles resulting in a loss, and four sacks.
Edge: The edge in this matchup goes to Clowney, who has done what the UK offensive line has not this year; proven he can hold his own and make plays in the SEC. With the ability to blow past a tackle on the outside or overpower a double-team inside the trenches, expect the Gamecocks to utilize Clowney in a number of different ways on the edge to take advantage of UK's lack of athleticism up front and its inability to contain aggressive defensive lines.
South Carolina running back Marcus Lattimore vs. UK defenders Danny Trevathan and Winston Guy
In his second year at running back for the Gamecocks, Marcus Lattimore is already on pace to exceed the numbers he put up during his freshman year in 2010. So far this year, Lattimore has already rushed for 677 yards and nine touchdowns, causing UK head coach Joker Phillips to call out Lattimore as a potential Heisman Trophy candidate during his weekly press conference Monday.
"One of the top teams in the league in rushing has a guy who is probably a Heisman candidate," Phillips said. "You guys would have to determine that. I think he definitely is, but that's for you guys to determine."
If UK wants to slow down the Gamecocks'  rushing attack and force the game into the hands of South Carolina's inexperienced sophomore quarterback Connor Shaw, newly inserted into the starting lineup this week, the Cats will have to follow the lead of their senior leaders, linebacker Danny Trevathan and safety Winston Guy. Trevathan has recorded double-digit tackles every week but one this season, and will need to do it again with Lattimore on the field. Guy, who has played closer to the line of scrimmage in co-defensive coordinator Rick Minter's defense, will also need to use his speed and athleticism to be a factor in stopping the run.
Edge: The edge goes to Lattimore, but not by much. Lattimore possesses all-world ability in the backfield, with a combination of strength, lateral quickness, patience and explosiveness that will eventually have him playing on Sundays. UK's defense, especially Trevathan and Guy, will have to find gaps, clog running lanes and make difficult tackles to make Lattimore's job harder. Look for Lattimore to rush for more than 100 yards and perhaps even score a touchdown, but the Cats' defense may be able to prevent him from putting up a game-changing performance.
Overall Edge: The edge goes to South Carolina. The Gamecocks are UK's third ranked opponent in three weeks, and if the first two matchups are any indication, Phillips' team is not prepared to play at a competitive level against top competition. As things continue to spiral downward for UK, Spurrier will have his team refocused and ready to pounce on the Cats from start to finish.