UK says hats off to poet: Colleagues laud Finney for national award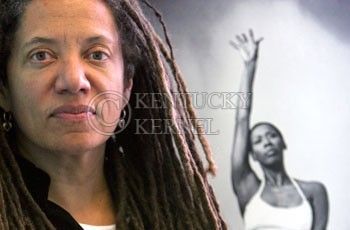 UK Professor Nikky Finney is now in the company of world famous figures such as Henry Kissinger, Julia Child, Thomas Friedman, Maurice Sendak and William Faulkner.
Just like those other legendary contributors to the arts, one of UK's most decorated faculty members was awarded one of the most renowned awards for literature in the U.S.
Finney received the 2011 National Book Award Wednesday for her collection of poetry titled, "Head Off & Split."
The book of literature embodies the history of the United States through the poet's eyes, and many people are talking about it.
Hap Houlihan, manager of The Morris Book Shop in Lexington, met Finney in 1989 when she first started working at UK. He's been reading and selling her writing ever since.
"I think it's her best work so far," Houlihan said. "She covers a lot of ground in her book." He said the store had a book signing back when it was published.
Houlihan said he has a read a lot of poetry, but he is quick to admit Finney has a special way of getting across to her audience in her latest work.
"The poetry is utterly dense with strong meaning," he said. "The collection of poems is like a sculpture — every edge of the granite is carefully shaped into definition by Nikky, the
sculptor."
Upon finding out his friend, a fellow member of the literary community, won the prestigious award Wednesday evening, Houlihan was so excited he "jumped up and down."
He acknowledged her growth as a poet over the past two decades, and he anticipates her next achievements.
"She's at the peak of her contemporary literary career up to this point, and she's at the top of the contemporary literature scene in Lexington," he said. "I think this is going to be a precedent of other achievements in the future for her."
UK President Eli Capilouto is also a fan of Finney's poetry, and is ecstatic about her latest accolade. Capilouto saluted her as a distinguished writer and UK faculty member.
Even though her poetry dissects some of the most unjust periods of history, Capilouto thinks it is necessary so people can learn from past mistakes and ideologies.
"Today, what students and her colleagues at UK have known for years, a nation now understands — the treasure that is Nikky Finney and her poetry, which reaches and touches us
all," Capilouto said in an email to the Kernel.
Mark Lawrence Kornbluh, dean of the College of Arts & Sciences, said he was pleased about Finney's National Book Award as well.
"It is an exceptional honor and achievement," he said.
Kornbluh was adamant that his colleague is more than deserving of the distinction.
"She is an outstanding scholar, first-rate teacher and mentor, and her work on 'Head Off & Split' could not be more deserving of the accolade," he said.
He said he believes that Finney's time spent teaching in the classroom and working on her poetic compilations will be the spark that lights the great literary minds of the future.
"Her work is an exceptional source of inspiration for the community and will undoubtedly continue to inspire future generations," he said.
Marion Rust, associate professor and interim chair of the English department, agreed with Kornbluh.
"Amidst all the excitement about her well-deserved 2011 National Book Award for Poetry, it's easy to forget that Nikky Finney has been one of our most beloved colleagues for some time now," she said.
She pointed out that, while all of UK's faculty are great, there are special qualities about Finney that propelled her into the national spotlight.
One of those characteristics is her keen ability to connect with UK students not only inside, but also beyond the boundaries of the classroom, she said.
"It goes without saying that, as the Provost's Distinguished Service Chair Professor of English, Professor Finney provides her students with the education of a lifetime," Rust said.
She said Finney contributes just as much to the UK faculty as she does to her students' academic experiences.
"What you might not know is that she is just as generous with faculty, whether by representing colleagues in their promotion cases or opening her home for a department holiday party," she said. Rust applauded Finney's National Book Award and added that she is a strong and versatile Renaissance woman.
"Somehow, while writing timeless poetry, she also manages to treat quotidian bureaucratic requests with dignity and sometimes even humor," she said. "I love working with Nikky."