Young debate team, coaches seek to reclaim past glory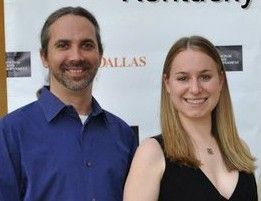 Just a year into their new positions, Andrea Reed and Dave Arnett have begun to reshape the UK Debate Team.
"The chance to rebuild the dynasty as it were, was an opportunity to not pass up," Arnett, the team's head coach, said. Arnett replaced Roger Solt, who had coached for 30 years, and Reed replaced J.W. Patterson, who was the team's director for 40 years.
"We are in a rebuilding stage," Reed, the program's director, said.
In October, the team won the varsity division championship at the Vanderbilt Debate Tournament, the first varsity win for the team in more than a decade.
The team was in the top 20 every year from the late 1970s to the mid 90s, Reed said.
Reed and Arnett's goal is to make the team consistent in winning, Arnett said.
The team that won in October consisted of BCTC senior Charlie Cavalier and junior Billie Woika.
Cavalier said since Reed and Arnett have joined the team, things have become more organized.
"It has gotten a lot more in tune with the university," he said. For example, he said, before it was a low, outcast program. "Now, they are working with the university a lot more for funding and institutional support."
The new coaches are really dedicated, Cavalier said.
"Dave and Andrea have brought order to what was formally chaos," he said. "They are trying to fix everything."
Before Reed became the director, she coached at Berkeley and Wake Forest, according to the team's website.
"There is a lot of work to do. We both still consider ourselves in the rebuilding phase," Reed said. "The university gives us a lot of support. It's a good place to be trying to bring the program back to the top 20."
Arnett, who is originally from Kentucky, was the debate director at the University of California, Berkeley, before he came to UK, according to the website.
The team
Being on the debate team is much like playing a sport for UK.
"Debate is pretty specialized," Reed said. For example, a basketball player wouldn't walk on a college team without prior experience, she said, and the same is for debate.
"It's sort of exactly like a sports team," sophomore Nicole Schladt said. "Still have that team quality."
Schladt was part of the novice team, along with Alejandra Zavala, who won the novice division in September at the Intercollegiate Debate Season Opening tournament at Georgia State University.
Schladt, an international and gender and women studies major, did speech in high school and said she joined the team because she missed it.
"I love that it is such an intelligent activity," she said.
Reed said debaters generally have extensive high school experience, though some don't.
Each year, teams debate over one topic. This year's topic is democracy assistance to the Middle East.
Reed said debating is a yearlong process, where debaters map out and research the topic. In June, teams are given the general area of the topic, and they start researching during the summer, she said. The first tournament was in October.
Teams have to be prepared to debate both sides of the issue, Reed said.
"Researching the negative to all the other teams affirmatives is an on-going task," Arnett said.
Students put in about 30 hours a week if they want to compete at the highest level, Reed said. "It's almost like a job."
With 40 hours of competition at a tournament, each debate is about two and a half hours. "It's an endurance test, for sure," Reed said.
Tournaments are generally twice a month for three days, and debaters compete from September to April.
Cavalier, a fourth-year debater, said he spends a lot of time in the debate office doing research and talking about arguments.
"It has definitely been a new experience with Dave and Andrea — having that kind of camaraderie," he said. He said they try to be there all the time. Along with Arnett and Reed, Cavalier works a lot with assistant coach Abe Corrigan.
"It's not something that happens very often — undergrads having such interaction with professors," Cavalier said.
Rebuilding
The team is young, with just eight debaters competing, Reed said.
There are varsity, junior varsity and novice divisions and each team consists of two people.
Currently, Reed and Arnett are working on rebuilding the summer camp, which is held on campus every year.
"Getting students on campus is the most effective thing we can do to persuade students to stay," Arnett said. He said 10 of the top 20 high school juniors in the country are committed to coming to the summer camp.
He said the team has two different missions. One is to make the team a top 20 program, which is done with about 10 to 14 experienced debaters, he said. The second is to offer novice debate and bring debate back to Kentucky high schools.
"The feeling on campus is a lot of optimism," Arnett said. "There already is a lot of support for the team here."
He said in building connections with different UK departments, "it seems like every department we meet with, they remember debaters or they were a debater."
Reed and Arnett's goal is to qualify a team for the National Debate Tournament, held in late March. Last year, a UK team qualified for it.
"We're a pretty small program at the university, but I think we can do pretty big things for it," Reed said. "It's not everyday that UK students get the chance to meet students from Harvard. … We have the opportunity to do that every weekend."