Vargas, Harrow model new platinum jerseys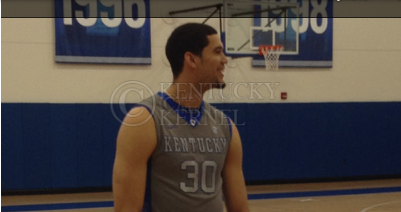 UK's new platinum jerseys will debut on Tuesday against Tennessee.
But the players brought them out for Monday's practice. Here's Eloy Vargas modeling the front and Ryan Harrow modeling the back (click for full size):
I had been wondering how the jerseys would look on real people and under real lighting, as opposed to the presentation pictures of the jerseys.
Harrow wanted to model UK's new uniforms a day before they debuted, because he won't get that chance in a game.
"I feel like I got a little bit of muscle in these," he said," glancing down at the new look.
The platinum jerseys are more like grey, with a sharp blue checkerboard pattern running down both sides. The front looks normal. The back looks like it's imported from Europe, with the player's name positioned below the number.
Eight other schools will be wearing the new look at some point this season.
"I think we're all excited to get something special like this," Darius Miller said.
Like it? A total matter of individual taste. I think they're different enough to be cool for one game. A lot of other people who saw the jerseys at Monday's practice disagreed.
Besides, they're just aesthetics, a peripheral component of basketball. Sure, they're not (really) school colors, and the back of that jersey might end up being a severe annoyance to my visual senses.
Regardless, the players seemed to like the new look. And it's the players who are wearing them.
"I just saw them in the locker room," Terrence Jones said. "Hopefully it brings us good luck."
or email him at [email protected]