Calipari, players talk Final Four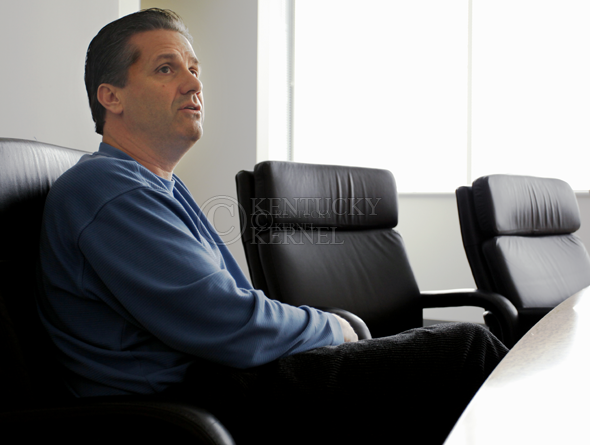 A full transcript of John Calipari and various players discussing UK's game against Louisville Saturday.
Q.  John, just from a coaching standpoint, what do you see as Rick's strengths?
COACH CALIPARI:  Bringing teams together, motivating teams to play at a high level, coming up with schemes and different ways of playing that gives his teams a chance to win, pushing them to places they don't want to go by themselves and making them do things they didn't think were possible.
Q.  I had a conversation this morning with Father John Dennehy at Seton Hall about how the two of you developed a relationship.  Is there a thing with priests and you?
COACH CALIPARI:  I have a lot of priest friends from going to mass in different places where I've been.  We met in I believe it was Puerto Rico and I was looking for a morning mass.  He said, I'm going to give one in my room.  Five of us huddled in his room, Father John said mass, gave communion.
We stayed in touch.  I still think of him.  We correspond.  So I saw him on the bench in a game and called him at Seton Hall.  Very good man.  Very good man.
Q.  The word was that Jim Rome got you and Rick together for an interview just a minute ago.  How did that go?
           COACH CALIPARI:  The table was flipped over and people were rolling around, but I'm not going to say more and I'll let you guys watch it on CBS.  Just give a little promo to CBS (smiling).
Q.  I asked you in Atlanta if you thought you'd be able to keep the players from the craziness that was going to be around the state. You said you didn't think that would be a problem.  A week later, was it a problem at all?
COACH CALIPARI:  Yeah, we're staying above the fray, the drama.  If you want to buy into the drama, then you buy into it.  If you want to play basketball, we're playing a terrific basketball team tomorrow at 5:00.  That's all we're dealing with.
It's another basketball game for us and our team.  I know the fans on both sides are going crazy, and that's great.  That's part of why you do this thing.  But we're not buying into it.  I don't believe their team is buying into it.
I say it again.  The physiology in your body, if it's hate, anger, meanness, turns to fear within your body.  I don't think any of us are doing that.  Our team will be ready to play.  Their team will be ready to play.
All I'm concerned with is how do I get my team to play at their best.  We'll deal with the results.
Q.  Maybe not the place to go soul searching, but we know how competitive you are.  On some level do you feel like you need a championship in college basketball for a completeness?
COACH CALIPARI:  I don't.  I don't.  Now, my friends and family around me, Oh, I hope you do…
My whole job is to get these young people to play as well as they can, to help them change habits, to get them to reach dreams.
They drag us to what you're talking to if they choose to.  For me, at the end of the day, if I'm done with this profession and we've had all the success, young people that are graduating, high grade point averages, the highest APR in the SEC, they're also going on to the league and doing well.  They're not only being drafted, they're playing well.  Let's say that number becomes 50 before I retire, I'm going to be a happy man, like I did what I was supposed to do.
I've been put in this position, I don't know why.  I'm at the University of Kentucky.  My grandparents came through Ellis Island.  My parents are high school educated.  My mother passed away last November.  But why am I coaching at Kentucky?  I have no idea. Shouldn't be there.  Why am I there?  I'm not from the state, I didn't play for any of the great coaches.  Coach DeGregorio, you were a great coach, and Coach Sacco, you were great a coach.
But I'm having this opportunity.  At the end of the day I just want it to be about these young people that I coach.
Q.  Coach, considering you're at Kentucky and considering the rivalry and we're here now at the Final Four, go back before the season, the quote that you had about your state being unique in that there's only one program.
COACH CALIPARI:  I didn't say that.  Can I say this again now what I said?
The state is unique in that Kentucky fans are throughout the state.  You don't have many Kentucky fans or North Carolina fans in Durham or many Duke fans in Chapel Hill or UCLA fans in, you know, Sacramento.  I mean, it's just different.
Now, Louisville has their base of fans.  Louisville is a great program.
What I said was, we have a ton of Kentucky fans in Louisville.  It's just a unique place.  I've never seen anything like it.
There was no disrespect.  It's we have the state's name:  Kentucky.  Our fans are throughout.  That doesn't disrespect Louisville at all.  It wasn't meant to.
The one thing with being the coach at Kentucky, everything I say is deciphered and 'He meant.'  It's like your a politician, this is what he said, the stock market went up or down.  I mean, it's crazy.
But that's what I meant to say and what it mean.  Kentucky fans are throughout our state.  The Louisville fans, they have a strong base of fans.  They have a building I think that seats 22,000 and it's sold out every game.  They have their fan base, there's no question about it.
Q.  You said earlier your job was to get this team as ready as you could to get them to play to the highest level.  What have you done to do that?  Are you confident it's been done 24 hours out?
COACH CALIPARI:  It's been more than 24 hours.  Tuesday, Wednesday, Thursday, Friday, four days of practice.  Monday was an individual and lifting day.  We believe the game is going to be played fast.  We think they're going to press.  Some of it man, some of it trapping.  We think they're going to be in a zone and do some trapping out of it, do some man?to?man, do some switching out of it.  We worked on it.
They play very physical.  We've talked about it, we've worked on it.  They do great stuff in pick?and?rolls.  A lot of their stuff behind ends in an angle or high pick?and?roll.
It's stuff that you laymen who don't know anything about basketball could tell me the game's going to be about.  We've just done a normal preparation.
We have not prepared any different for this game than any game this season.  The only thing we did with this game, we had to leave a day earlier than we wanted to.
Q.  When you started in this business, ambitious guy, who did you want to be?  How much different are you now or did you become the guy you wanted to be?
COACH CALIPARI:  Well, first of all, I had a great opportunity to be mentored by Larry Brown.  I wanted to be like Larry Brown.  The problem was he had a bad hip.  So you start talking like him, dressing like him, and I developed a limp, and I didn't have a bad hip.
But you want to be around those guys that you know care for you and that you respect greatly.
The change for me over the years in my coaching has been it shifted from me to everybody else.  And you find out, if you make the job you do about everybody else, not yourself, it becomes easier.  It becomes an easier job.  It's about my secretary and her family, my assistant coaches, our players.  It's about them, not me.  What I do in the community.  It's about our town.  It's about our state.  Life becomes easier.
If it's about me, this is a hard job.  If it does become about me, you live and die on every win and loss.  You just die a lot.
So for me, I just want this to be ?? it wasn't that way when I first started coaching.  I was trying to survive.  You know, I know I didn't do as good a job with those early teams at UMass, the teams that I coached then.  But I'm a little bit older now and been through the wars a little bit, and I think it's helped me.
Q.  With the experience of coaching in Houston last year, this type of venue, what have you prepared for a large venue like this?
COACH CALIPARI:  We built a five?foot court in our practice facility so we could be on a raised court.  Do you believe that?  Okay (smiling).  It's not true.
But we played in a dome, it was just on the floor.  We're the one team that's played in a dome in Atlanta.  There's not a whole lot you can do.  I don't want to talk about it too much.  It's like talking about free?throw shooting too much, then you can't make a free throw.  I mean, everybody wants to talk about shooting.
We didn't say one word.  Get out there and shoot, it's the same thing.  Kind of did the Hoosiers, same distance, everything is the same.  Just get out here and play.
Q.  Can you talk a little bit about Anthony Davis and his health, what he did this week, how he feels knee?wise?  Can you talk about what makes him the best college player in the game?
COACH CALIPARI:  First of all, he's fine.  What makes him unique and special is here's a guy getting all these awards for Player of the Year, and for most of the season he was the fifth?leading shot taker on our team, fifth.
When I asked the question to my team, What do you do to help us win when you're not making shots?  You think about him now. How about when he's not taking shots?  He's a great passer.
We've let him expand on our offense.  He listened, bought in.  He basically said to me, Tell me how you want me to play.  Each week, each month, we gave him a little bit more of offense to do.  So now he's mad he didn't shoot more threes.  Somebody told me he wants to play some point guard.  I told him he can do that for us next year, can play that position for us.
But he has just got a great heart.  He defers to his teammates, ala Derrick Rose, Marcus Camby, they defer to their teammates.  I'm leaving John Wall and a lot of guys, DeMarcus Cousins who were great kids, too.  But they kind of stand out when you talk about how they played.
Q.  Could you talk about Rick's ability as a strategist, how that might make the talent gap between the two teams closer in this game?
COACH CALIPARI:  You're basically saying I have none of that, is that right (smiling)?  You're just not praising me about mine, you're praising him.
I would tell you, you know, with the five days to prepare, I would imagine they've come up with a few things to try to — I don't want to use the word 'trick' — but to confuse a team that starts two freshmen and three sophomores.  I have no doubt that he has.  Probably did some things in the zone.  May have done something on the out?of?bounds defense.  There may be something in the press that he hasn't done this year that they're going to do different in this game.
I told my staff, five minutes in we'll have an idea of how he wants the game to be played.  We've done all week the rough stuff, the body?to?body, the full?court stuff, all the things they do well.  I think they're going to try to take a lot of charges.  We're a driving, attacking team.  I believe in the first five or six minutes, there will be seven, eight, nine charge attempts.  We have to be prepared.  We have to come to strong stops and try to know some of the things they'll try to do.
Q.  Can you talk a little bit about your first Final Four against Kentucky at the Meadowlands and the difference now coaching Kentucky.
COACH CALIPARI:  Well, the two best teams that year played in that semifinal.  They shouldn't have.  Now they've redone the tournament so those two teams only face each other in the final game, the 1 and 2 seed.  They put them in regions so they would face in the final game.  We played in a semifinal game.
We had beaten Kentucky earlier that year, beat them pretty good in Detroit.  My team was really good.  I had a great team.  Edgar Padilla, Carmelo Travieso, Donte Bright, Dana Dingle.  Who was the big kid?  Marcus Camby, he was pretty good.  Tyrone Weeks.  I'm leaving off some names, but we had a good team.  We were a terrific basketball team.
They had nine NBA players.  They were really a talented team.
What I remember about the game when we lost was going up to Rick, hugging him, telling him, I'm happy for you, and I really want you to win your championship.  At that time he had not won one yet.  Being at Kentucky.  Those are the thoughts I have.
And Tony Delk making all those threes in the left corner, one after another.  I think he made seven that game.  But it was a good basketball game.
Q.  Forgive me for asking a question you answered a million times.  Can you talk about the influence Garf had on you.
COACH CALIPARI:  You know who I saw, Will Klein.  I saw Will today.  Some Cokes I got out of the canteen, he wanted me to write a check.
Q.  Should Garf change sides at halftime?
COACH CALIPARI:  I don't know what he'll be doing.  I know this:  he's meant so much to me, both he and Will.  Garf gave me an opportunity to coach basketball, teach basketball, but more importantly to come together with other basketball people and learn.
To hear Rick Pitino, to hear some of the great speakers, Hubie Brown, that came through five stars, listen to them in those lectures, you would be blown away.  To watch them teach, you learned how to teach the game.  It's not playing plays, it's how do you teach a player how to play?  We all learned that through that camp.
Then the way Garf was to treat all of us.  The introductions, he had the greatest introductions ever.  If he introduced you, you really felt like, Man, I must be good for him to introduce me like that.  Even today, I don't know if he still does, he did the Dapper Dan introductions, they were unbelievable.  If he did the Final Four introductions, the only problem is the game would be 30 minutes late.  It would be a late?starting game.
---
Kentucky Student-Athletes
Q.  Would each of you mind commenting on Anthony Davis.  There's so much about his shot blocking, but what about other intangibles?
DARIUS MILLER:  He does a lot for us.  He does a great job of knocking down shots.  He has a nice post game.  He does everything for us.  I mean, he makes the court open for us.  People don't want to leave him to get lobs.  He's an all?around great teammate.  He's always there talking to us, so it's great to have him on the team.
DORON LAMB:  Like Darius said, he's a big part of our team.  On the defensive end he block a lot of shots and scoring a lot.  He scores a lot on our team.  I think he averaging about 14 points.  He got a great post move now, so he's making a lot of shots on the offensive end.  Great part of our team.
TERRENCE JONES:  Yeah, he's a great person on our team.  I mean, when it comes to blocking shots and being there for a guy that needs help, how he uses his length, scores for us on offense, just a great addition to have on our team.
Q.  Terrence, can you describe what you remember about Peyton Siva when you were growing up, what kind of friendship you two have now.
TERRENCE JONES:  Uhm, growing up we just always had a little rivalry going on.  Him being from Seattle, me being from Portland.  Just playing against each other our whole lives, we knew each other.  Had a friendship off the court and still do.
Q.  Doron, this is your second time to the Final Four.  How does this feel different from a year ago?
DORON LAMB:  Well, it's a great feeling to come back here back?to?back, since I'm a sophomore.  It's an honor to be in the Final Four.  It's a great feeling.  I know everybody is expecting us to win the whole thing.  We got a lot of pressure on us.
We have to deal with that and play a hard 40 minutes.
Q.  Terrence, Peyton talked about wanting to come to Portland, how your mom would cook.  Did you ever go up to Seattle at all?  Do you remember him saying, I want to stay here for a couple days?
TERRENCE JONES:  He was always supposed to stay the night at my house, just hang out.  But, I mean, our coaches wouldn't like that too much, just being we'd be playing each other in the championship the next day or something like that.
I mean, we just had to hang out when we can.  But his parents and my parents, my parents know his, and we are good friends.
Q.  Darius, Chris Smith just said the goal is to get Anthony Davis in foul trouble, that will pretty much give them the game.  How would you respond to that?
DARIUS MILLER:  If that's their game plan, I mean, go at it.  I mean, they can do whatever they can to get Anthony in foul trouble.  I'm sure a lot of people have.  If that does happen, I mean, so be it.
We still got other players who can play.  I know Anthony is a huge part of our team, arguably our best player.  If he gets in foul trouble, which he has a couple times, so be it.  We can still play.
Q.  Terrence, how does Louisville look compared to the team you played back in December?
TERRENCE JONES:  Well, uhm, I really haven't seen too much film or anything to tell a difference.  I just know what the coaches tell us, is that they're gonna pretty much play real physical, they're running a lot of pick?and?roll to make Peyton create for everybody.  That's just what I know.
Q.  What is it about Coach Calipari that gets you guys to play so well together as a team, that you've had to sacrifice high scoring averages, that you play so well together?  Any one particular thing about him that gets you to do that?
DARIUS MILLER:  Uhm, I mean, he just demands it.  We work on it every day, then it comes down to us having good teammates, good players on the team, good people.  Nobody's really caring about who's scoring the most or anything like that.  We just all want to win the national championship.  Once we all focus in on what we need to do to win the national championship, nothing else really matters.
DORON LAMB:  Coach Cal always talks about that, playing all together, good things happen for all of us at the end of the season.  We just going to keep playing together and see what happens after the season.
TERRENCE JONES:  I think it just makes it easier when we all have set the same goal and want the same things, and that's just as a team, a national championship.  I think we would do anything for that.  So it just makes it easier that we all want the same thing.
Q.  How much tougher is it to shoot in a building of this size?  What do you do to prepare for a game when there's a lot of distractions behind the rim?  Is it harder?
DORON LAMB:  Not to me really.  It's like our third time playing in a football arena.  It doesn't really bother me, though.
DARIUS MILLER:  Yeah, it was kind of weird at first.  I mean, you just got to get off as many shots as you can.  We just got to continue to knock down shots.  That's especially something that we do.
Q.  Doron, Russ Smith was saying you go back a ways.  Would you describe the nature of the relationship, where you ran into each other, how you became friendly?
DORON LAMB:  Russ, one of my great friends.  I know him for a long time, since I was 10 years old.  Played against him in AAU.  He was on my team the last year AAU, New York Gauchos.  He was my teammate on the road, too.  Had a great time on the road and had a great experience with him.
Q.  Obviously it's already a great rivalry.  Here are two New York City guys going at it a little bit.  Is there a little bit of hometown pride on the line here?
DORON LAMB:  No.  I'm just trying to win the game really.  Got to do what I got to do to win the game.  After the game, we can hang out and everything.  But on the court, there ain't no friendship.
Q.  Darius, Louisville players were able to go out last night till 11:00, walk around the city some.  Have you done anything fun since you've been here?
DARIUS MILLER:  The first day we kind of went out a little bit.  We didn't really stay out too long.  Then after that, it's been business.  We're not here to have fun or party or anything like that.  We trying to win a championship.