'It Gets Better' Project creator coming to UK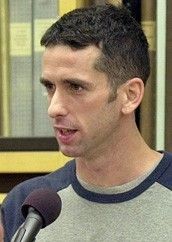 By Tessa Lighty
The creator of the "" Project, Dan Savage, will be coming to campus Tuesday to talk about his project and how it applies to the UK community.
In September 2010, multiple cases of bullying led to suicide among the adolescent gay community.
Savage, along with his husband, Terry Miller, decided to do something about it.
That September, the pair created the "It Gets Better" Project, which showcases videos made by gay adults telling youth that the struggle against bullying and
adversity gets better.
Soon after its creation, the idea went viral.
Today, the project has its own website with more than 2,500 videos and its YouTube channel has more than 3 million views.
The project started in the U.S. but has spread to other countries, including Australia, Sweden, Denmark and countries in Latin America.
In an attempt to make the gay community feel welcome at UK, the Student Activities Board, along with Wildcat Student TV and many other UK organizations, created its
own "It Gets Better" video.
"We had seen other schools create videos … we wanted to show that hate isn't something we will tolerate at UK," said Sarah Jones, SAB director of engaging issues.
SAB wrote letters to 40 prominent student leaders and well-known faculty to get others involved in the video. The letters explained the project and what the groups
hoped to accomplish in making the video, Jones said.
Gay and straight members of UK's community appear in the video, encouraging students to remain hopeful in their pursuit against adversity.
Savage is the editor of "It Gets Better: Coming Out, Overcoming Bullying, and Creating a Life Worth Living," and will speak against hate aimed at the LGBT
community, according to a news release.
He also will talk about how the project is important to UK's community and campus.
While the project was started to raise awareness, it has now grown to inspire hope for the future of LGBT youth, Jones said.
The lecture will be at 7 p.m. on Tuesday in Memorial Hall. The lecture is free and open to the public, but you can pick up tickets from the Student Center Ticket office this week from 9 a.m. to 4 p.m. Following the lecture, there will be a question-and-answer session with Savage, as well as a book signing.
"Everyone deserves to be respected for who they are," Jones said.
For more information, visit .