The Edge: UK has chance for win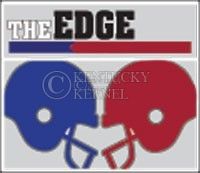 By Ethan Levine
UK defense vs. Samford running back Fabian Truss
Truss is among the premier running backs in the Football Championship Subdivision. His 1,026 rushing yards this season lead the team, and he has scored more touchdowns in 2012 (11) than the Bulldogs' entire passing game (10). But Truss is not the first talented back UK has had to prepare for this season.
Vanderbilt's Zac Stacy, Arkansas' Knile Davis, South Carolina's Marcus Lattimore and Florida's Mike Gillislee have all posed difficult obstacles for the Cats throughout conference play, and that experience has served to strengthen the defense as the season has continued on. Although UK is allowing opponents to rush for 177 yards per game this season, Samford's offense will not be as balanced as UK's other opponents. If the Cats can focus on stopping the run and force the game into Samford quarterback Andy Summerlin's arm, their job will become much easier.
Edge: UK
The Cats are a superior team athletically to the Bulldogs, an advantage UK has not had a chance to rely on much this season. Since sophomore Bud Dupree's move to weakside linebacker earlier this year and senior Taylor Wyndham sliding into Dupree's former defensive end position, UK has kept a lot of size on the field on defense. A young secondary will be ready to fly around Commonwealth Stadium to help honor its fellow seniors and departing head coach Joker Phillips, allowing UK's front seven to focus on the run. Truss should have a handful of nice runs but will not be allowed to act as a difference-maker for Samford in this one.
Overall Edge: UK
Much like its 47-14 win over Kent State in week two, the team's only win of the season, UK shouldn't struggle very much on Saturday. While the Bulldogs post an impressive 7-3 record in the FCS, they have yet to take on an opponent at the highest level of college football. The Cats, on the other hand, have played exclusively teams at that level. UK hasn't won a game since Sept. 8, costing Phillips his job at season's end. The Cats can sense their second victory of the season, and sending off their beloved seniors and coaching staff with a win should serve as extra motivation. For the first time since the start of SEC play UK is finally favored in a game, and it certainly won't let that opportunity pass it by. After the way the season has unfolded, the Cats will take no win for granted.
FINAL SCORE: UK 38, Samford 13