New 2014 big man, Towns, chooses Cats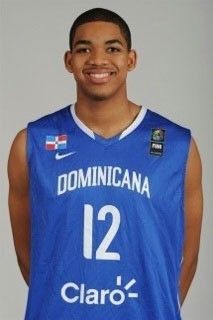 By Nick Jones | @Kernel_Nick
UK head coach John Calipari has done it once again on the recruiting trail by adding another top-rated player in Karl Towns Jr.
On Tuesday, Towns announced his decision to play at UK during a 10 a.m. press conference on MSG Varsity, a regional television station.
The conference was at Towns' St. Joseph High School in Metuchen, N.J., in front of the school's student body.
When Towns selected UK, it came as no surprise, as Calipari and his coaching staff have said to be the front-runners for the Towns sweepstakes for a rather long time.
The 6-foot-11, 235-pound center was able to experience the UK coaching staff firsthand this past summer during his time with the Dominican Republic national team.
"He really fell in love with Orlando (Antigua)," St. Joseph athletic director Jerry Smith told the Kernel, referring to the UK assistant coach. "That is his main guy."
He felt comfortable in that environment out there," Towns' father, Karl Towns Sr., said of his son's time spent in Lexington.
With a lot of high school left to go, the early decision makes Towns among the first premier underclassman players off the board.
"He caught us off guard, but the main reason was to stop all the phone calls and the disturbances at home from all the various institutions after him," Smith said. "He wanted to get it off his shoulders."
Although Towns began the press as the No. 1-rated player in the 2015 class, he made the announcement that he had reclassified to 2014 within minutes.
"I am going to reclassify to the class of 2014," Towns said. "The university I have decided to play for in 2014 is the University of Kentucky."
Towns has a GPA over 4.0, so the decision for him to reclassify was the obvious choice.
"He is so bright that there is no reason for him to just waste his time," Smith said.
During the televised press conference, Towns spoke of both basketball and academics as a draw to UK.
"They are such a powerhouse in basketball and a good academic institution as well," Towns said.
He acknowledged UK's kinesiology program as top-notch, and that will likely be his plan of study when he arrives on campus in fall 2014.
Calipari now has the ball rolling for the future, but the class of 2013 is still incomplete.
Such names as Andrew Wiggins, Julius Randle, Aaron Gordon and Dakari Johnson are still on the table and at the top of UK's wish list.
Cats fans can expect one or more of the aforementioned targets to be added to UK's star-studded recruiting class in 2013, boosting it to the most talented class of all time.
But for now, fans will celebrate the addition of Towns, who boasts talent both on and off the basketball court. Many analysts compare his skill set to that of Dallas Maverick big man Dirk Nowitzki.
"When he gets down to Kentucky he is going to be an unbelievable celebrity," Smith said. "Not so much for his play, which will be outstanding, but for the way he speaks and handles himself and involves himself with everyone. They are going to fall in love with this kid."