SAB hosts Tyler Oakley at 75th Birthday Bash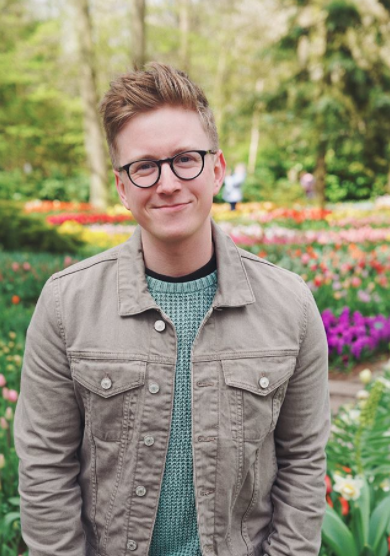 YouTube personality, comedian and LGBTQ+ rights advocate Tyler Oakley made his first appearance in Kentucky at the Singletary Center for the Arts Tuesday night.
Oakley, who has a following of almost 8 million subscribers on YouTube, spoke about his experiences with turning his channel into a career, meeting fans, collaborating with some of his own idols and doing charity work.
The YouTube star, who is openly gay, additionally spoke of his experiences with having an LGBTQ+ identity in the public eye, offering advice to the audience about the process of coming out and making the decision to do so or not based on one's safety.
He also spoke of his work with the Trevor Project, a suicide prevention organization with a focus on LGBTQ+ spectrum youth. Oakley said his fans have raised over $1 million for the organization.
"I am the most fortunate person in the world because my audience cares," Oakley said. "I try to shine lights on things that, if I were a young person watching my stuff, what I would have needed back then."
Other topics discussed included Oakley's book, "Binge," and the process of not wanting to write at all to creating the first publishing proposal, his friendships and interactions with fellow YouTubers, "The Tyler Oakley Show," a web series hosted on the official Ellen DeGeneres Show website and his day-to-day life when the cameras are not rolling.
The YouTube star also answered questions submitted by students and fans at UK, and encouraged a conversational atmosphere at the event by interacting with the more vocal members of the audience.
Oakley, a YouTuber since 2007, said the culture of the service changed under the ownership of Google as his channel grew.
"The first time I remember seeing a YouTuber doing a brand deal, there was uproar, like, pandemonium in the YouTube community," Oakley said in reference to the shift toward sponsored and ad-supported videos on the platform. "Nowadays it's, like, cool, make your money, make stuff, make content. People understand that YouTubers need to live… Something has to make it happen."
The event coincided with the Birthday Bash, a party organized by the Student Activities Board to celebrate the organization's 75th year on campus.
SAB will host its final event for the year, a Massage on the Go session in the Hub at William T. Young Library, on April 26 from 7 to 10 p.m. More information about the event and the Board is available at their website, http://www.uksab.org.