New food hall is 'crown jewel' of The Summit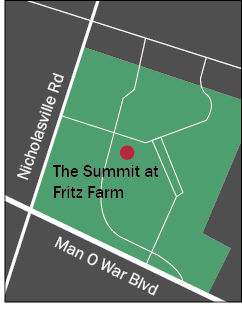 Since the opening of The Summit at Fritz Farm in April, it has been the site of many trendy retailers and restaurants in Lexington. The newest addition is the The Barn, Lexington's first food hall that seeks to embrace local businesses. It features six local Lexington restaurants, a Kentucky merchandise store and a whiskey bar.
"We intentionally took a very disciplined approach when curating The Barn and decided to source all local restauranteurs so that we could honor Lexington's culinary scene," said Lindsay Bayer Shipp, Retail Brand Strategist for Bayer Properties.
Bayer Properties and real estate firm Rebees partnered to work on the food and beverage strategy for The Summit, according to a press release.
The Barn is locally furnished with wooden tables made from recycled wood from Kentucky horse fence plank and barns. Old World Timber, a Lexington-based wood preservationist company, furnished the interior and exterior. The company has furnished other sites in Kentucky, including the new UK Student Center, said company representative Liz Brown.
Kentucky for Kentucky is also located in The Barn. It is a clothing and merchandise line centered around the slogan "Kentucky Kicks Ass." The company began when founders Whit Hiler and Griffin VanMeter tried to get the state slogan changed, said company representative Justin Mosteller.
Whiskey Bear, located in The Barn and owned by Daniel and Florence Marlow, is the only vendor to sell alcohol in the venue. According to Daniel Marlow, The Summit is currently in its final stages of receiving its Entertainment District Liquor License, allowing customers to purchase a drink from the bar and take it outside with them to continue enjoying it as they shop around The Summit.
"Once we got to know all of the other owners, the spirit of collaboration has just been tremendous," Daniel Marlow said. "We all get to support each other with a common goal here at the barn. So that's something we're super excited about."
Most of the local restaurants located in The Barn have other locations nearby.
Smithtown Seafood, owned by Ouita Michel, is a farm-to-table salad, burger and sandwich restaurant. The original location resides on West 6th street next to West Sixth Brewing. As many ingredients as possible are sourced locally. While some menu items are unavailable in the Kentucky area, the restaurant sources its vegetables locally as well as the silver carp, an invasive species to Kentucky that proves harmful to the lakes and streams of Western Kentucky.
"It's your ecological duty to eat silver carp," Michel said. "It's a great tasting fish, but it's also a great thing to consume because it helps save our lakes and streams."
Pasture by Marksbury Farm, owned by Josiah Correll, represents a collective of farmers and meat-processing facilities that are dedicated to raising animals on green pasture with no hormones, steroids or antibiotics. The meat is completely natural. The Summit location is its second, with the primary restaurant located in Lancaster.
Crank and Boom, another Lexington favorite, is getting its second location at The Barn. The ice cream shop gets all of its ingredients from local farms and coffee shops, including Nate's Coffee and JD's Country Milk.
Athenian Grill, owned by Athens, Greece, native Illias Papas is on its third location in Lexington. Papas said he brought his family recipes to Lexington and partners them with mostly locally sourced ingredients to give Lexington locals a taste of real Athenian food.
The sixth restaurant, Atomic Ramen, is owned by former Master Chef contestant Dan Wu. It is the first of its kind in Lexington. A year in the making, Atomic Ramen combines the owner's love of Asian comfort food with comic books and Asian pop culture.
"The Barn at Fritz Farm will be the crown-jewel of the development that will tie the property together and complete the vibrant mix of tenants," said the press release.