UK Snowcats explore the outdoors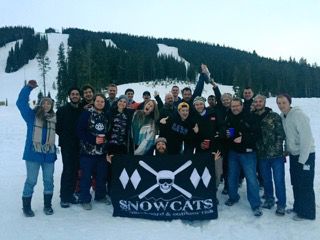 UK students tackle sports, fashion, academics and more with determination. But some Wildcats take it a step further: They tackle entire mountains.
UK Snowcats is a ski and outdoor club made up of UK students. With 200 participatnts in its yearly trips to hike, ski and enjoy the great outdoors, it is one of the largest student organizations.
The club is decades old, starting up as a way to unite people with a love for the outdoors and sharing experiences with their UK family. Requirements have remained minimal over the years as a way to include as many people as possible.
These low requirements are part of what makes the Snowcats club such a hit, said Thomas Doerr, marketing director for the Kentucky Snowcats.
"Our goal as a club is to help UK students to become more exposed to the great outdoors and to be able to experience places they've never gone before," Doerr said.
Throughout the year, the club has many different planned trips. Members take hiking and camping trips to Red River Gorge, go north for skiing and go whitewater rafting in West Virginia in October.
The highlight of the year is over Christmas break. The club usually takes people out to Colorado to enjoy a rare skiing experience. This year, instead of Colorado, the club will be going to Big Sky, Montana, a scenic spot between West Yellowstone and Bozeman. The area boasts wildlife such as elk, deer, black bears, grizzlies, upland birds, waterfowl and wolves among beautiful snowcapped mountain ridges.
This special Christmas trip is a weeklong trip during the first week of January. Doerr said this trip is their most popular trip because of the amazing scenery and because few people get the opportunity to ski in the western mountains. He also said it connects students who share a common love for the outdoors, making friends and lifelong memories.
"During my freshman year I didn't know anyone and wasn't involved in anything," he said. "I went on a limb and went on my first trip with Snowcats and I immediately fell in love with the people and the experience."
He said that everyone in Snowcats is so welcoming, and they gave him the opportunity to see amazing places and meet wonderful people.
"Our members all share the same love for the outdoors," he said, "and we are constantly trying to grow and share this passion with everyone else."
To become a member of Snowcats, students simply sign up for a trip. There is an introductory fee of $30, which will cover team spirit gear such as club shirts and stickers. Students who join do not need professional skiing experience.
For more information on the Snowcats, email [email protected] or visit the Facebook page at facebook.com/uksnowcats.