Windy Corner Market brings the best of the Bluegrass together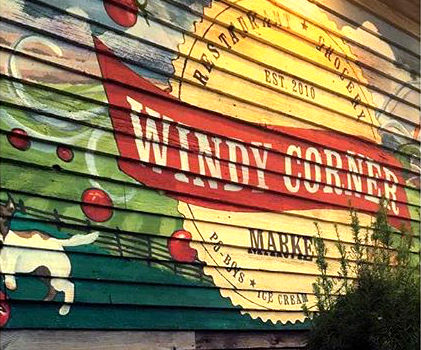 From Ale-8-One made in Winchester to soaps and candles from Paris, Kentucky, and everything in between, every product in Windy Corner Market showcases locally sourced products. 
Windy Corner Market is a grocery store, restaurant and ice cream parlor dedicated to selling Kentucky-made products. The store has nearly 50 local vendors based in more than 20 Kentucky cities and multiple counties. Along with the local food products featured throughout the store, a variety of other non-edible products such as local books, lotions, jewelry and bath bombs line the shelves of Windy Corner.
"We provide support to local farmers and give a sense of welcome to all of our customers. Everyone who comes through the door feels very welcome and like they are at home," said Windy Corner Marker's General Manager Devin Armstrong.  
Entering the rustic store, visitors will be transported to the past as they eat the traditional Southern comfort food the restaurant serves. Breakfast includes classics such as eggs, biscuits and hot browns whereas barbeque pork, Po-Boys, burgers and other seafood dishes are on the lunch and dinner menu. The restaurant also has daily specials such as meatloaf Mondays and shrimp and grits on Tuesday.  
Armstrong said one of the most popular menu items is the "Bourbon Barrel Deluxe," which is a one-third pound patty complete with bourbon jam and bourbon beer cheese. Another popular item according to Armstrong is any of the nine Po-Boys the restaurant serves daily.
"There's nothing better than having a good Po-Boy with good scenery," Armstrong said. 
For dessert, visitors can purchase traditional ice cream sundaes as well as ones with a Kentucky flair. One sundae incorporates an important aspect of the state's culture as well as supports another local business with its main ingredient, Ruth Hunt's Bourbon Balls. Along with ice cream, visitors can indulge in traditional Southern desserts such as beignets. Other deserts the bakery serves include brownies, cookies and Kentucky heritage pies.
Windy Corner Market's desserts are unique because they come from Midway Bakery, which is a part of the Windy Corner Market family. Ouita Michel is the owner of Windy Corner Market, Midway Bakery and five other restaurants, including Smithtown Seafood in Lexington and Wallace Station Deli in Versailles. This summer, Michael will be expanding her restaurant empire by opening a new restaurant in the basement of the old courthouse in downtown Lexington.
Live bluegrass bands also perform at Windy Corner Market every Friday night from 6 to 8:30 p.m.
Windy Corner Market is located on Bryan Station Road and is surrounded by horse farms and bluegrass. It is open seven days a week and visitors can follow the store on social media @WindyCornerMrkt on Twitter and @Windy.Corner.Market on Facebook  or visit its website to find out more information.