Book-shaped bench to honor late UK professor; GoFundMe nearing goal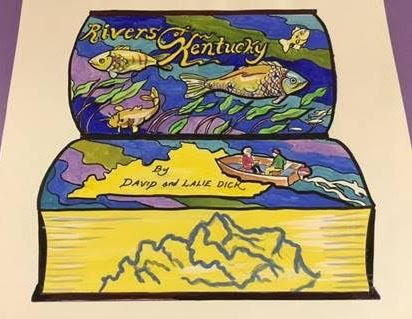 A park bench and a GoFundMe page may help one late Kentucky author and professor continue to influence others for years after his death.
The late UK professor emeritus David Dick had a passion for literature that continues to impact the commonwealth.
"Rivers of Kentucky," one of David's books which he co-authored with his wife Lalie, has been selected for a Lexington art project called "Book Benches: A Tribute to Kentucky Authors," which will be a relaxing space that promotes literacy in Kentucky.
The book bench art project highlights an outstanding author's work by displaying his or her work as a themed park bench shaped like an open book. The design is meant to honor the author as well as remind people of the importance of reading, the website for the book benches said.
Throughout the summer, the project will display 35 functional book-shapedbenches throughout Lexington as a salute to literacy. For more about this project, visit www.bookbencheslex.org.
Dick's bench will be handpainted by artist Sarah Spradlin. It will be auctioned to the highest bidder and placed wherever the buyer sees fit. The proceeds of the bench will then be donated to literacy programs such as LexArts, Arts Connect and Carnegie Center for Literacy and Learning.
"He loved everything about Kentucky," said Lalie Dick of her late husband's legacy.
She said her husband loved water, and "Rivers of Kentucky" was certainly about the rivers of Kentucky, "but it's mainly about the people along the way," she said.
"David had a passion for talking to people and writing about them and telling their stories," she said.
While researching the rivers and lakes of Kentucky, David and Lalie used a DeLorme map, a grid-like design that allowed them to find many remote locations. Through this process, they overthrew the idea that rivers had to be 100 miles long to be classified as rivers. Throughout their journey, Lalie said they had a wonderful time experiencing the essence of the bluegrass state, and the bench's design seeks to reflect that.
UK journalism alumnus and UK Associate Professor of multimedia in the UK Journalism and Media School Kakie Urch said David was the director of the school during her years as an undergraduate student. She remembers him fondly, and admired his love of Kentucky and his family as well as his passion for the written word. 
"He was a great mentor to me and a number of other journalism students," Urch said. "He was passionate about language, storytelling, ethics, the profession of journalism and its power to change lives and circumstances."
"(He) delighted in teaching the JOU 101 course that introduces first-year students to journalism and he hired some of the best professors we've had," said Urch, whom David awarded the first Dan Rather Broadcast Scholarship in 1988.
Lalie has set up a GoFundMe page to raise money for the completion of the bench. Of the $6,000 goal, the page has raised about $4,700.
Lalie said $5,000 is required to begin the process. To find out more or donate, visit the GoFundMe page. Donations will be open through April 15, 2018. Any excess funds will be donated to the "What A Great Story!" storytelling awards.