WBB Scouting Report: Iowa Hawkeyes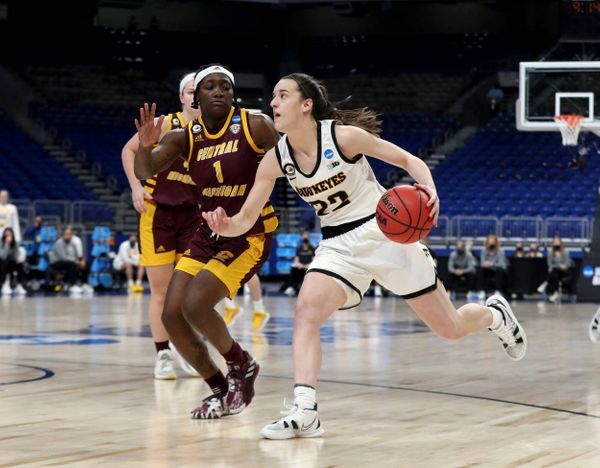 After defeating No. 13 Idaho State 71-63 on Sunday afternoon, Kentucky finds itself in the NCAA Tournament's Round of 32. The Bengals stifled the Cats early on, but they managed to fight back and claim victory. A similar start against the No. 5 seed Iowa, who ranked second in the nation in scoring (86.6 PPG) during the regular season, could spell doom.
The Hawkeyes are led by coach Lisa Bluder, who has held down the fort in Des Moines since the turn of the century. She has racked up a 435-231 record in those 21 seasons – including this one – and has brought Iowa to the NCAA Tournament 15 times (again including 2021). Before taking the Hawkeye head job, she was still employed in Des Moines, coaching the Drake Bulldogs from 1990-2000. Iowa made the Elite Eight in 2018-19, the deepest run Bluder has been responsible for in her time there.
Fantastic freshman guard Caitlin Clark is the Hawkeye leader. She was named a Second-Team AP All-American and Big Ten Freshman of the Year after pacing the nation in numerous categories, including points per game (26.7), total assists (195) and made three-pointers (103). Her 7.2 assist average ranks second in the country, as does her 3.81 three-pointers made per game. She connects on 86% of her free throws and 40.6% of her three-pointers while dropping dimes like the one below on a consistent basis:
The matchup between Clark, who also brings in 5.9 rebounds each night, and Wildcat First-Team All-American Rhyne Howard will be appointment viewing. But Clark isn't a lone wolf. The Hawkeyes shoot 52% from the floor and 40% from deep as a team, hitting a shade under ten treys per contest (9.56).
Monika Czinano anchors the interior for Iowa. The 6-foot-3 junior is second on the team in scoring (19.5 PPG) and third in rebounding (158 total, one less than Clark). While Kentucky will have to contain Clark, they'll likely have more difficulty holding the Hawkeye center below her averages. The Wildcat interior defense has struggled throughout the season against the talented bigs of the SEC; Czinano may not be in the same conference as the Cats, but she's definitely in an equivalent class to the dominant frontcourt players they've faced.
McKenna Warnock and Gabbie Marshall are the third and fourth leading scorers for Iowa, combining for 21 points and seven rebounds per outing. Warnock, a sophomore out of Wisconsin, has recorded double figures 19 times, while Marshall – a native of Cincinnati and graduate of Mount Notre Dame – has done so on 11 occasions, including a 27-point outburst against Rutgers on Mar. 11 in the Big Ten Tournament Quarterfinals.
Kate Martin rounds out the Hawkeye starting five. She is the secondary facilitator to Clark, with 114 assists on the year. The sophomore has only six showings with double-digit scoring, but plays a vital role.
Clark, Czinano, Warnock, Marshall and Martin have started 26 of 27 games for Iowa; the only game the five of them didn't open together was one Warnock did not play, but the other four suited up for. They have great chemistry despite their relative youth. They hope to be an even more dominant group in 2021-22 – when they'll all return – but have no intention of going down easily this year.
Kentucky and Iowa battle on Tuesday. A time and network have not yet been announced.