An 'excit(ing) night' for UK gymnastics first home meet
UK gymnastics' "Excite Night" lived up to its name on Friday, Jan. 13
The first home meet of the gymnastics season, Excite Night attracted an above-average crowd that head coach Tim Garrison told UK Athletics the gymnasts fed off of.
Rupp Arena housed 10,558 adoring fans, according to an Instagram post by UK gymnastics, as the Wildcats outscored the LSU Tigers 197.125 to 196.575.
Cats fans were on the edge of their seats as the gymnasts worked the vault, bars, beam and floor, erupting into cheers when the team stuck their landings.
The crowd spanned generations, but the tangible energy in the air connected everyone in attendance.
For freshmen Keira Quinn and Taylor Meier, Excite Night marked their first ever college gymnastics meet at UK.
"I did gymnastics when I was little so I've heard about all the hype," Meier said. "It's awesome. We're loving it."
Quinn and Meier paid special attention to fellow Pittsburgh native Shealyn Luksik as she competed.
"There's way more people here than I thought. It's insane and there's so many little kids," Quinn said.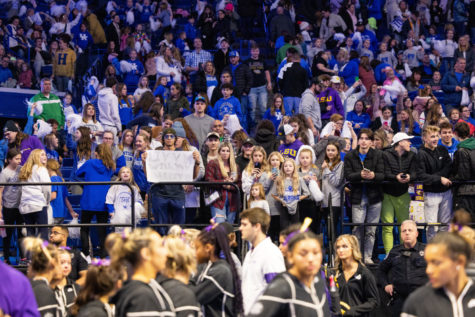 Many young aspiring gymnasts attended the meet to dream of one day competing at a college level. Danville mother Pattie Sims drove her 9-year-old daughter to the meet for this reason.
"We came last year to Excite Night and it was just so great, " Sims said. "We loved it, so we wanted to come back this year."
Sims also brought her daughter's gymnastics teammate to watch the Wildcats and Tigers face off. The young girls look up to and see themselves in the members of the team.
Sims said she hopes her daughter Josie will stick with gymnastics and is inspired by the passion she shows for it.
"I love watching her," Sims said. "She's been really successful at the level she's at right now."
Attendee Joe Brewer also brought his daughters to fuel their love for the sport.
"I have two daughters, five and three, and they're into gymnastics," Brewer said. "And it is Excite Night."
Although Brewer's daughters are quite young and haven't started practicing gymnastics yet, they plan to soon.
Some Excite Night attendees supported UK gymnastics via social media and wanted to see them in action.
Sophomores Maria Hammerle and Allison Huismann both said they follow the UK gymnastics Instagram account and thought Excite Night would be the best time to come out.
Hammerle did gymnastics in high school but Huismann had never attended a meet before. Huismann asked Hammerle to explain most aspects of the competition.
"I think it's really neat," Huismann said. "It's a really fun environment."
At the time of the meet, LSU ranked No. 10 and UK ranked No. 12.
LSU's skillset attracted some of the audience, but a number of students in the crowd came to see a certain member of their team.
Olivia Dunne, a junior gymnast and social media influencer at LSU, has amassed a following of over 6.8 million on TikTok and 3 million on Instagram. According to Sports Illustrated, Dunne was the top earning female athlete in 2022 in name, image and likeness sponsorships.
According to CNN, Dunne's fame has led to disruptive conditions at Louisiana's meets due to her male fans' "mob-like" behavior. At LSU's meet prior to Excite Night on Jan. 6 in Utah, Dunne's fans were so distracting, intense and "inappropriate" that LSU gymnastics decided to enhance security for the safety of their athletes.
On Excite Night, Dunne's fans did not make such a scene, but they were present. UK Freshmen Andrew Johnson and Preston Keith had never been interested in attending a gymnastics meet until they heard Dunne would be at Rupp.
"Well, the answer is really short," Johnson said. "(We came out for) one person who is not on our team."
The boys said they are big fans of Dunne from TikTok and Instagram.
"We heard there's this really good gymnast on LSU and we wanted to see the skills in person." Keith said.
Unfortunately, Dunne is out with a shoulder injury according to the Washington Post. She did not compete on Friday.
"We're kind of disappointed," Keith said. "It looks like she's injured or something."
Johnson and Keith confirmed that, despite attending to see Dunne, they cheered for UK.
In the comments of a UK gymnastics post, user @jerkin_____ wrote: "Kick to the nuts when Livvy didn't compete."
UK gymnastics thanked the many fans that showed up Friday via Instagram.
"We couldn't have done it without you! Thanks for putting the EXCITEment in Excite Night," the Instagram caption said.