Could Bourbon be the New Official Drink of the Commonwealth?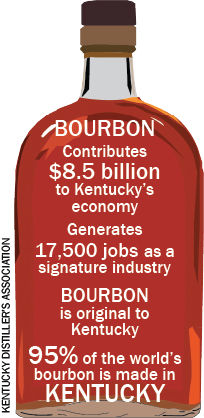 Twelve years ago, the Commonwealth of Kentucky made milk its official state drink.
The proposal was made by then-Senator Joey Pendleton, who owns a dairy farm.
State Senate Bill 93 states that "milk production and the manufacture of dairy products are major contributors to the economic well-being of Kentucky agriculture."
In those 12 years, few have actually questioned the decision to make milk the official state drink. A few years ago, lawmakers considered replacing milk with Ale-8-One, but the proposal was never carried through.
But the creators and signees of an online petition think they have a better option for Kentucky's state drink: Bourbon.
The petition to replace what it calls "cow juice" with bourbon began on Sept. 6. It was published by Kentucky for Kentucky, the company behind the push for a new state slogan of "Kentucky Kicks Ass."
"Ever since we found out milk is our state's drink, we've always wanted to do this. Since it's Bourbon Heritage Month, we figured it would be the perfect moment to drop this petition," Whit Hiler of Kentucky for Kentucky stated. "If we could make this happen, we believe it will really benefit the Commonwealth."
The petition backs up its proposal with several facts about bourbon: It contributes greatly to the commonwealth's economy, as an $8.5 billion signature industry that generates 17,500 jobs. Plus, bourbon is original to Kentucky—95 percent of the world's bourbon is made in Kentucky, according the Kentucky Distiller's Association. In contrast, milk is the official drink of 20 states.
According to 2016 Kentucky dairy facts from the Southeast Dairy Association, cash receipts for the sale of milk by dairy farmers amounted to $192 million for 690 dairy farms, which is no comparison to the $8.5 billion dollars Kentucky bourbon brings in every year.
The Kentucky Dairy Development Council does not currently have a comment in response to the petition.
The petition, which is on Change.org, has more than 2,500 signatures, with a goal of at least 5,000. The petition will be delivered to the Kentucky State Senate and House as well as Governor Matt Bevin.