Kentucky mens basketball seeks fourth straight SEC win at Vanderbilt
With another SEC win under their belt, the Kentucky Wildcats will look to take down the Vanderbilt Commodores on the road in Nashville, Tennessee.
After kicking off conference play and developing a 1-3 record, a fire was lit under Kentucky basketball as the team went on to win its next three SEC matchups.
The Wildcats will be heading down I-65 South still hot from their 76-67 win over Texas A&M where Kentucky sank 11 3-pointers against the Aggies on Saturday and came back from a halftime deficit to claim the win for the second game in a row.
Also contributing to Kentucky's hot streak is the Wildcats' last road game that saw the team rack up its biggest win of the season, upsetting No. 5 Tennessee 63-56 in Knoxville.
While Kentucky will be looking ahead at its matchup against No. 9 Kansas at the end of the week, defeating the Commodores should not be overlooked as an easy feat.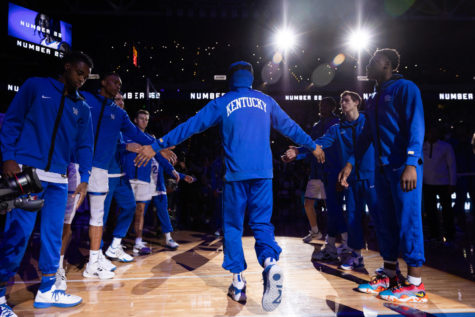 Despite Vanderbilt having a 10-9 (3-3) record on the season, the Commodores have given quite the performance against ranked opponents in conference play.
Vanderbilt most recently defeated No. 15 Arkansas 97-84 while keeping up in close range to both No. 5 Tennessee and No. 7 Alabama.
The Commodores' last matchup against Georgia resulted in an 85-82 Vanderbilt win, so they too will be taking the court on Tuesday fresh off of a conference victory.
Yet, it is also important to remember that Vanderbilt has consistently hung around at the bottom of SEC rankings with its last NCAA tournament appearance coming in 2017.
Looking more closely into the game, the series breakdown between the two teams sees Kentucky leading its matchups against Vanderbilt 154-47 with the Cats also going 61-29 in Commodore territory.
Kentucky seems to finally have found its balance on the court and with Oscar Tshiebwe averaging 22 points and 20.2 rebounds a game last week, Vanderbilt could be in for a tough ride if the reigning consensus National Player of the Year is on his A-game.
The Wildcats and the Commodores will tip off on Jan. 24 at 9 p.m. EST inside Memorial Gymnasium in Nashville, Tennessee.