Cats look to carry momentum against Texas A&M
After the defeat to South Carolina last week, the Wildcats (12-6) have seemed to have found much-needed momentum. A win at then No.5 Tennessee last Saturday and a convincing win over Georgia on Tuesday night now mean the Cats can continue to keep the ball rolling against a hot Texas A&M team (13-5). 
 Though they might be unranked, the Aggies come into Lexington with seven consecutive wins and are undefeated in the SEC after a 6-5 start to the season. 
 After losing to the likes of Murray State by 11 points, Colorado by 28, Boise State by 15, Memphis by four and Wofford by five, A&M has been the SEC's surprise team with two wins over Florida, a 13-point victory in College Station against LSU, a blowout at South Carolina, and a big win vs. No. 20 Missouri. 
 After being projected by many to not make the NCAA Tournament, Buzz William's team now find themselves second in the SEC with a perfect 5-0 record only behind No.4 Alabama. 
 Something to remember for the Aggies' wins so far this season is that every victory in the SEC have been against first-year head coaches before facing up against 30-year coaching veteran John Calipari on Sunday 
Transfers have played a big role in the perfect SEC start for the Aggies with Dexter Dennis (Wichita State) averaging just shy of a double-double with 11.6 points and 9.6 boards a game and Julius Marble (Michigan State) averaging a team-best 15.6 points a game. 
During the seven-game win streak, Tyrece Radford was Texas A&M's leading scorer averaging 14.3 points while hitting 52.2% of his shots from the field and 37.5% of his 3-pointers. In the 11 games prior, Radford was averaging 10.8 points hitting 31.5% of his field goals and 27.5% of the time beyond the arc.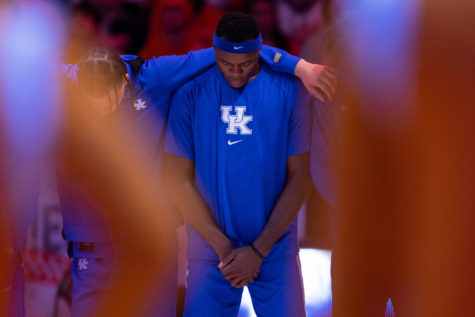 Oscar Tshiebwe's monster night against Georgia will need to happen again for Kentucky vs. the Aggies as they lead the SEC with a 12.6 rebounding margin as well as ranking No. 2 in scoring defense, allowing just 57.6 points per outing.  Texas A&M are also the only team to allow fewer than 300 points in the SEC thus far (288 points).
Something else to keep in mind for Saturday's matchup is that Texas A&M comes into Lexington tied with Alabama for the longest active winning streak by a SEC team and the nation's 8th-longest active win streak.
After what seemed like for much of Big Blue Nation the end of the world with the losses against Alabama and South Carolina, Kentucky now finds itself with an opportunity to win three SEC games in a row to put the season back on track with a win on Saturday providing a resume boost to continue to prove its worth as an NCAA Tournament team.
 Tip-off against Texas A&M at Rupp Arena is currently set for 2 p.m. ET and can be seen on ESPN.