Stats and film review are two of the best ways to analyze a football game.
They tell us how efficient a team is on either side of the ball, they track player performance and on film we can see how well players executed their assignments on a given play.
For example, when Eastern Kentucky blocked Kentucky's first punt of the game, we can look back at the film and see the EKU player that blocked the punt, Cornelius Evans, ran past Paul Rodriguez without any form of resistance in order to get to Wilson Berry.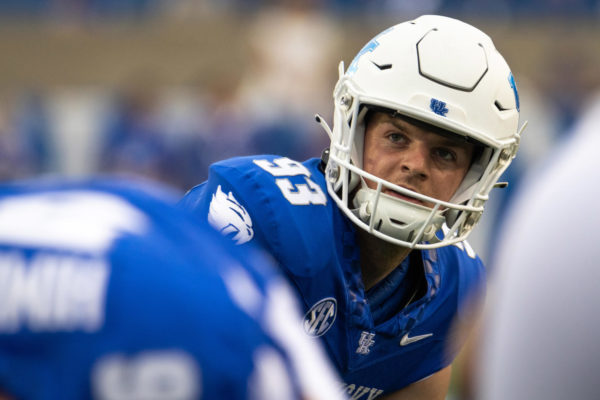 Suboptimal, to say the least.
Stats can also tell us that the Colonels were the team more likely to win for 70% of the game.
Not great, right? 
With that said, the best part about stats and film is that you don't actually need either one of them to tell us that Kentucky played poorly on Saturday, because everyone saw its performance with their own eyes.
Instead, they tell us why. It's easy to say that Kentucky played poorly following Saturday's scare, but it's much harder to say why it played so bad or what went wrong to lead to such an effort.
Using advanced stats, here are two of the biggest reasons Kentucky's performance fell flat last Saturday. 
A story with two sides
Offensively, Kentucky's issues only lasted for about a half.
The Cats had ten drives that weren't in garbage time – seven in the first half and three in the second half. Their first six drives ended in a blocked punt, a turnover on downs, another punt, an interception and then two more punts, all combining for a whopping zero points.
Once again: suboptimal.
Despite that, the Cats turned it around and scored four consecutive touchdowns to break the game open. Even better, their three touchdown drives in the second half all had 30 or more yards than their longest first half drive.
So, what did Kentucky offensive coordinator Liam Coen change?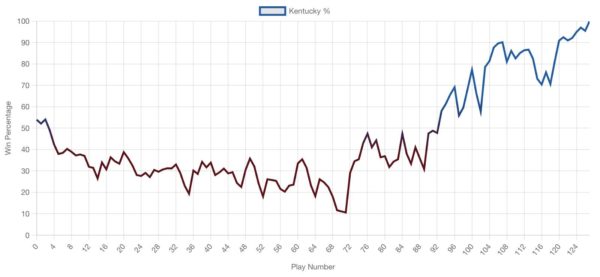 He went back to what he knew worked.
"I think that I just looked at the guys [and started calling] things they really knew how to execute well," Coen said. "Part of it's on me: being able to call stuff that I know we have a lot of confidence in, but we're also trying to get better, so it's a little bit of that catch 22."
To his credit, there is a catch 22. By the time the Cats have to play several of the nation's best football teams, those teams will have caught on to their methods of beating Ball State and Eastern Kentucky.
To beat a team like Georgia or Tennessee, Kentucky will need to be crafty and it's games like these where they'll need to practice that craftiness.
The numbers back this up. There's a stat called Expected Points Added (EPA) that measures the outcome of each play and tells us if that play adds or takes away from a team's point total. A positive score means the team performed better than expected on a play, which yields more points scored during a game, while a negative score means that they performed worse than expected on a given play, losing them points.
In the second quarter Kentucky was so inefficient on offense that it was actually losing 0.135 points for every play it ran. Against a team like Georgia, that's a gaping window of inefficiency to let the Bulldogs back into the game if Kentucky is winning, or for it to pull ahead for good if it was losing.
None of that is to mention that this inefficiency came against Eastern Kentucky, not the defending national champions.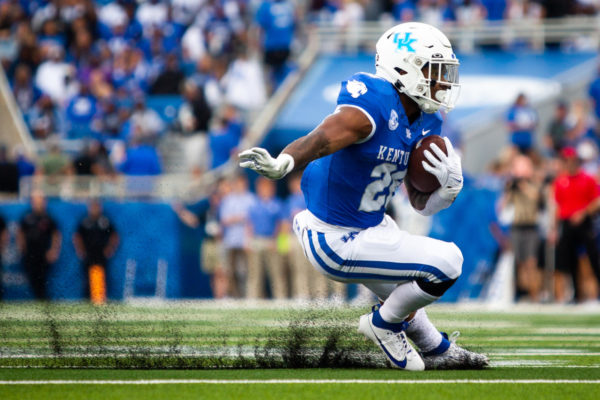 Luckily for Kentucky, the Colonels were even worse in the second quarter, clocking a negative 0.164 EPA. That number is also a "gaping window of inefficiency" and it kept Kentucky in the game just long enough for it to tie it at seven going into halftime, boosting the Wildcats' win probability by nearly 20%.
When Kentucky came out in the second half, it was gaining 0.66 points-per-play in the third quarter and 0.968 point-per-play in the fourth.
If that sounds good, it's because it is.
The dramatic change in EPA means that Kentucky was gaining nearly a point-per-play as opposed to losing fractions of a point-per-play and highlights the shift in efficiency Kentucky had when Coen went back to his guns, beyond the obvious fact that Kentucky was finishing its drives with touchdowns instead of turnovers.
Based off of EPA, the most impactful connection was between Devin Leary and Tayvion Robinson, which brought in six receptions for 136 yards and two touchdowns in a strong performance.
In short: while Kentucky was really bad in the second quarter, its Eastern counterparts were no better and the Colonels' inability to capitalize came to haunt them when the Cats caught fire in the second half.
3.7%
We've established the issues within Kentucky's offense: a lack of efficiency in the first half that changed when Coen called plays his offense was more comfortable with. But what about the defense?
First, Kentucky did some things right, such as controlling the line of scrimmage and limiting broken tackles.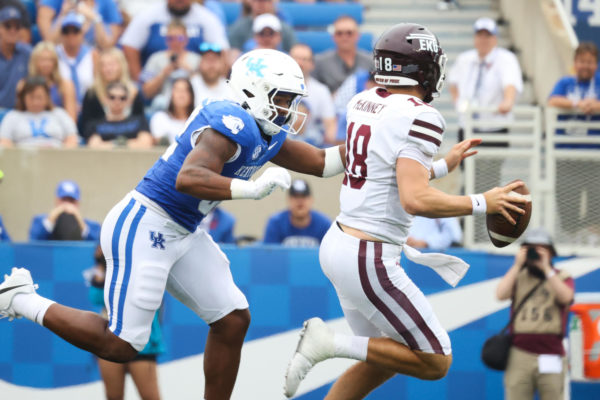 Eastern Kentucky was inefficient for all four quarters on the ground based on its EPA stats, which is a brownie point for the Kentucky front line and the Cats completely stuffed 16.7% of the Colonels' rushing attempts, which is also solid.
However, Kentucky's secondary was one of the key reasons Eastern Kentucky stayed in the game as long as it did as it only defended or intercepted 3.7% of passing plays.
For reference, Eastern Kentucky's secondary defended 9.4% of Kentucky's passes, which is average. Kentucky being this far below average against an inferior passing attack is a sign of the secondary being weak as some fans have feared and will be something to monitor as the Cats head into SEC play against some of the nation's best passing attacks.
The 3.7% number is supported by Colonel quarterback Parker McKinney's passing stats. McKinney only had 10 incompletions for the entire game and threw for 219 yards against Kentucky's larger defense.
Those 219 yards were split evenly amongst EKU's receivers, with no receiver having more than 60 yards on the day for the Colonels.
That's what makes the lack of secondary defense so appalling. It wasn't as if there was a single player that had a monster performance against the Cats, but rather the Colonels' entire passing attack successfully executing its plays, which not even Kentucky could do in the first half.
It will be a facet of Brad White's defense that will need to be immediately addressed heading into this week's matchup against Akron.
Conclusion: Is it time to worry about the Wildcats?
No, it isn't.
As important as all of these advanced stats and metrics are, there is an intangible aspect of football that numbers don't account for: energy, fight and passion.
The big blue faithful have every right to be disappointed in their Wildcats' performances in their two buy games against Ball State and Eastern Kentucky, even if they are buy games, but the most disappointing element of the performances haven't been Leary's arm (a take disproven by several available stats and film), White's secondary or drops by pass-catchers.
Instead, it's been the locker room.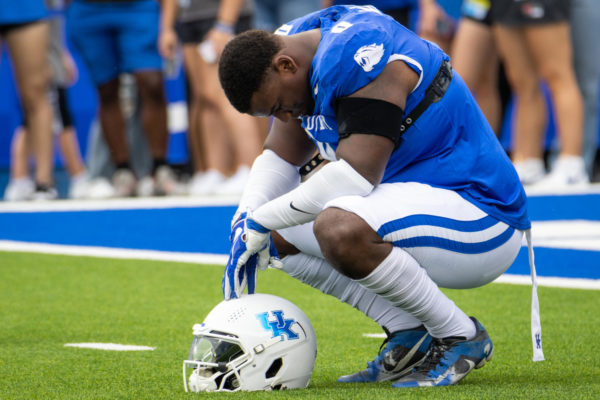 Playing against inferior opponents is no reason to not play well coming out of the locker room. If anything, it's more reason to play well because the Cats should be executing as if they're the better team as opposed to being complacent in that fact.
Both White and Mark Stoops acknowledged postgame that the team spent too much time looking at the scoreboard on Saturday, and White himself even went as far to say that the team is lucky to have two wins.
Simply put, advanced stats like the ones mentioned are ultimately meaningless if the boys in blue are only fighting for part of the game.
The numbers show that the Cats perform well when the mentality is there, like in the second half, but they also show that they don't play well when they stumble out of the gate, like they have in back-to-back weeks.
So, heading into Akron, perhaps the biggest thing that the Cats need to change isn't their offensive playbook or their defensive havoc rates.
Maybe they need a change in attitude.