Kentucky gymnastics places second at Regionals, advances to NCAA national championships
No. 9 Kentucky gymnastics placed second at the Norman, Oklahoma, Regional on Saturday and secured its spot in the 2023 NCAA national championships.
Led by senior Raena Worley, the Cats scored 197.850 – the second highest in program history.
Kentucky started off the night on the balance beam, with Worley scoring an almost perfect score of 9.950, which tied her for second.
Bailey Bunn and Isabella Magnelli each posted impressive scores of 9.925, tying Bunn's season best.
The beam was rounded out with a respectable 9.900 from Jillian Procasky, followed by a 9.875 and 9.825 from Adrianna Patterson and Shealyn Luksik.
The second rotation of the night for the Wildcats was the floor exercise, which saw the team's lowest scoring performance of the night.
Also led by Worley with a score of 9.950, she has yet to post less than a 9.900 all season long.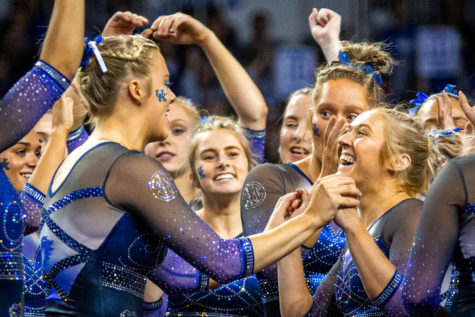 Junior Hailey Davis stepped up to post a 9.925, which was followed by a 9.850 from both Magnelli and Makenzie Wilson.
Patterson and Procasky each scored a 9.800 to bring the team's total to 49.375 on the floor.
Moving to vault, Patterson tied her career best with a 9.950 highlighted by a front handspring front pike half.
Two Wildcats each posted the same score on the vault with Procasky and Magnelli putting up a 9.900. Worley and Bridget Bourque both scored a 9.825 as well to bring the team total to 49.450.
The last rotation of the night was uneven bars, where Kentucky scored 49.450 for the second time.
Senior Kaitlin DeGuzman and Procasky led the team posting a 9.925 each.
Continuing the final push for nationals was Worley and Bunn who each scored a 9.900.
Rounding out the scores for Kentucky, Davis posted a 9.800 and Luksik a 9.600 to bring the Cats' final score to 197.850.
Overall, Worley tied for second with Oklahoma's Audrey David with scores of 39.650.
The team had top 10 marks in all events on the night and secured its spot in their second ever NCAA national championships.
The Wildcats will look to improve from their last appearance in the tournament in 2018 when Kentucky placed sixth overall.
The first round of the tournament will be April 13-15 at Dickies Arena in Fort Worth, Texas.