The Kentucky men's soccer team (2-2-0) was soundly defeated by in-state rivals Louisville (4-0-0) 4-2 on Tuesday, marking the first time in three seasons that the Cats have lost consecutive games.
Having gone undefeated for the entirety of last year's regular season, the Cats have now dropped two early games in a fashion uncanny to the recent successes of the program.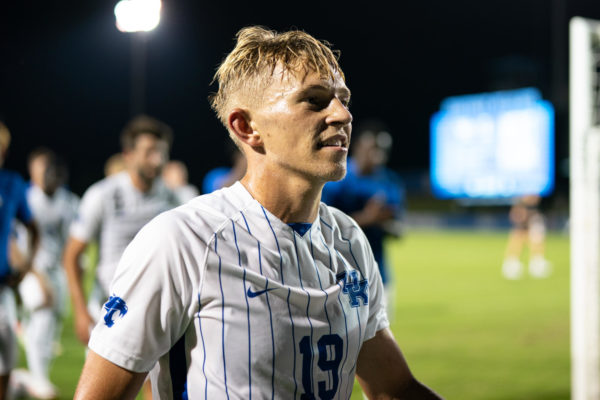 Head coach Johan Cedergren said that his squad is composed of young men eager to work and give 100%, even with the struggles of kicking off a new era. 
"Again, lots of new guys, lots of new starters, but that doesn't change who we are as a program and the stuff we worked on in the preseason," Cedergren said to UK Athletics on social media. "Disappointed with the result, of course, this is always a big game and we had a big crowd today, and it was very exciting." 
Louisville came out of the gate firing on all cylinders, pushing the Cats back into deeper areas of the pitch and not letting them play their desired style. 
This eventually reached a boiling point when the Cats conceded early to a cross that rolled to the far-post for Louisville's Konstantinos Georgallides, which he slotted home. 
Matters only got worse for the Cats.
Even with a 25 minute gap in any goals, Cedergren's squad, and sophomore keeper Casper Mols, were continuously peppered by shots, with Mols facing 10 in the first half alone. 
The 35th minute saw the hole only deepen as the Cards converted another strike, this time by Gage Guerra, putting Kentucky down 2-0 before halftime. 
Despite conceding two first half goals, Cedergren thought that, without Mols, the score could have been a lot worse.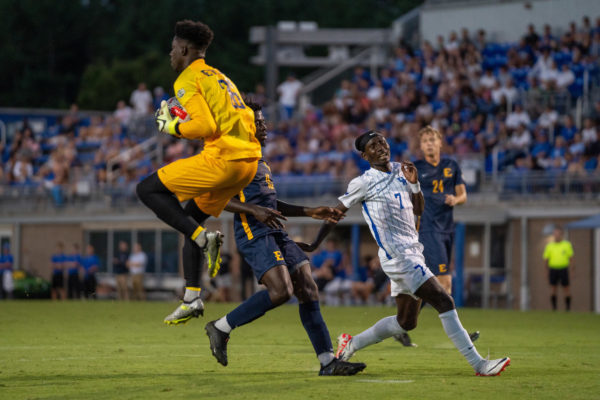 "For us, I think we struggled, but one guy who stands out is Casper Mols. I thought he was fantastic today," Cedergren said to UK Athletics. "I don't know if he saved four or five point-blank opportunities for them, so it actually could have been a lot worse for us." 
The halftime break didn't help the Cats' cause as, just after ten minutes, Gage got his brace, putting the Cards up 3-0 and ending any hope of a comeback. 
Despite two late goals scored by UK forwards Isaiah Chisholm and Logan Dorsey in the 61st and 79th minutes, the lead accumulated by the dominant Cards was simply too great. 
The Cats will host Lipscomb on Friday at The Bell, a team that gave UK a run for their money last season when it narrowly beat the Bisons 3-2. 
Cedergren acknowledged after the defeat that some major reworking needs to be done. 
"Now we're gonna have to go back to the drawing board, and figure out how to get a result on Friday, because the games are coming thick and fast and Lipscomb is gonna be a really tough opponent," Cedergren said to UK Athletics.
The Cats' match against Lipscomb will kickoff at 7:30 pm ET and stream live on ESPN +.