The "Across the (By)Line" series will give Kentucky basketball fans an in-depth look at their opponent for this week — from the mind of the opposing school's sports editor.
This week: The Vanderbilt Hustler, Andrew Wilf, Vanderbilt
How do you think last year's Vanderbilt win will affect this year's matchup?
"When we look at the game between Vanderbilt and Kentucky last season, the timing is something that you really need to put into factor. It was a mid-November game, Vanderbilt had just come off a really tough loss in Missouri where it fought really hard and almost had a come-from-behind win and Clark Lea kept preaching about getting an SEC win and staying the course.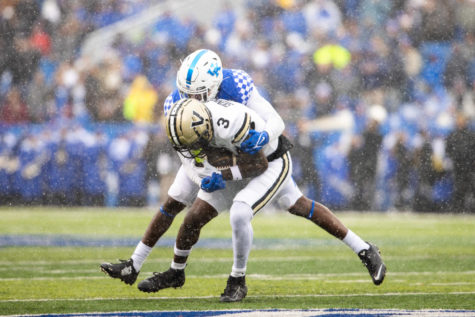 It was such a good momentum builder for Vanderbilt. After that it defeated Florida with an Anthony Richardson led team so to beat Will Levis and Anthony Richardson was such a good building block for the Vanderbilt Commodores.
When we look at this season it's hard to compare because the offense is so different. How can you not look at Ray Davis, former Vanderbilt star, he had 1,000+ yards on the ground for Vanderbilt last year. He was really the focal point of the offense and to see him play so well at Kentucky, it's no surprise to me or anyone at the Vanderbilt Hustler because he's such an excellent downhill runner and it's going to be exciting to see how Ray Davis does in a homecoming reunion type game.
Those are things I really look forward to in this game and then what the Commodores need to do to have their best chance of winning is taking care of the ball. Four turnovers against UNLV, three against Wake Forest, that is not the recipe for success when you're in the SEC and the margin for error is so razor thin."
Who do you see being the standout player for Vanderbilt?
"When looking from the defensive point of view, Vanderbilt's secondary is quite banged up. Safety De'Ricky Wright has a foot injury, he is day-to-day and having him on the field will be so important he had two turnovers against Hawaii and he's one of the main focal points of the defense.
I also think about Jaylen Mahoney when he comes back from injury. Those are two guys in the secondary that Vanderbilt really needs to come back for its best chance of winning.
I think about freshman running back London Humphreys – fun fact about London, he beat Jalen Ramsey's 200-meter dash record in the Nashville metro area in high school – he just got the starting role on a depth chart, he had 109 yards and a touchdown against Wake Forest, another touchdown in UNLV and he's really been coming into his own as a true freshman.
Quarterback AJ Swann, you could look at him and gadget guy Jayden McGowen alongside star receiver Will Sheppard – it's really hard to pinpoint one receiver but the receiver group is something I really think of.
Back on the defensive end I think about Langston Patterson who is one of the main linebackers for this team and he's quite a guy to look out for."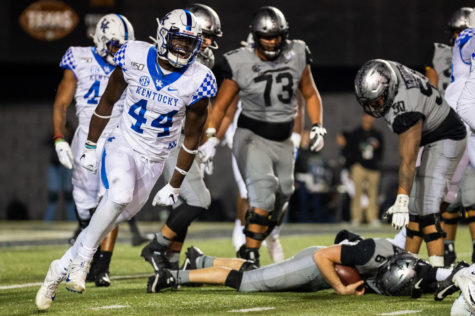 What will be the biggest point of emphasis for Vanderbilt kicking off SEC play?
"For Vanderbilt it's about taking care of the football. Football always comes down to the turnover differential and when the margin for error is so razor thin against a Kentucky offense behind transfer (Devin) Leary and (Ray) Davis. This offense looks pretty darn good and I'm quite scared, so that's why I think Vanderbilt has the best shot to win in a shootout type game and when you play shootouts those turnovers really come back to bite you. Vanderbilt needs to take care of the football."
What do you think the final result will be when these teams face off?
"My heart wants to say Vanderbilt, writing for the student newspaper (makes me) want to say Vanderbilt, but the ways in which Vanderbilt has lost the past few games, it's hard to believe a Herculean effort will come into fruition.
Against UNLV, which is one of the worst teams in its conference, losing that game was gut wrenching. Their starting quarterback came out early in the first quarter and Vanderbilt should have won that game easily, but sloppy play really riddled the team and I think Vanderbilt will clean up the act, but not enough to overcome Kentucky.
I think Kentucky wins 31-21 behind a two touchdown performance by former Vanderbilt Commodore Ray Davis. I think when these players and these student athletes go back to schools that they transferred from there's something extra, I guarantee Ray Davis circled that game and he can't wait to get to Nashville."