Kentucky football defeated EKU 28-17 on Saturday to advance to 2-0 on the young season.
While the offense may have struggled at points during the game, receiver Tayvion Robinson had a career day, boasting nine receptions for 174 yards and two touchdowns.
This comes after a somewhat mediocre week one performance where he tallied just three receptions for 38 yards. Robinson spoke on his week-to-week improvement after the game.
"Yeah, I feel like each week we get better in chemistry," he said. "We feel more comfortable as a unit. I think going into this week we'll practice hard and go out there better next Saturday."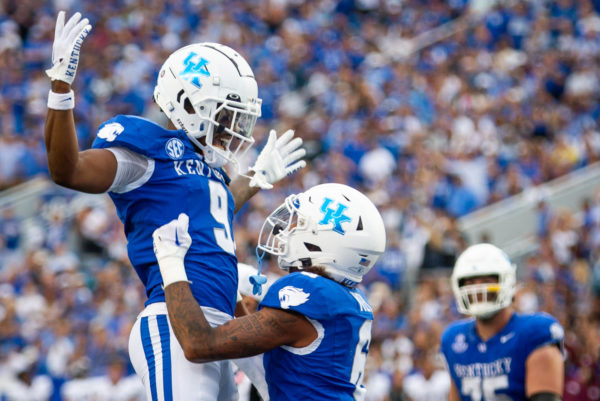 His first touchdown of the game came in the closing seconds of the first half. With Kentucky down 7-0, Robinson caught a 24-yard pass from transfer quarterback Devin Leary in the endzone to tie the game at halftime.
Robinson wouldn't lose any of that momentum going into the second half, scoring in the very next quarter on a six-yard pass from Leary to take the lead 14-10 following an EKU field goal.
While his two touchdown plays certainly helped on the scoreboard, it was his jet sweep late in the third quarter that was perhaps his most electric play of the day.
The massive 56-yard gain shifted the momentum on Kentucky's side and helped put the game away.
"Those are just explosive plays that got the momentum going on our side," Robinson said. "They got the guys excited and we executed and finished those drives." 
Robinson, a fifth year senior, transferred to Kentucky last season after spending his first three years at Virginia Tech. The Virginia native found success early in Lexington, catching the second most passes on the team with 40 and tallied two 100-yard games last season.
As Robinson looks to take on a bigger role in his final season, performances like this certainly are reasons for Wildcat fans to be optimistic about his impact this season.
Robinson and the Wildcats suit up again this Saturday against the Akron Zips. Kickoff is at 7:30 as Kentucky looks to continue its undefeated mark through week three.