Kentucky men's soccer (2-0-0) outlasted the East Tennessee State Buccaneers (1-1-0) 1-0 Monday night thanks to a goal from Kentucky senior Ben Damge.
The goal came with just two and a half minutes left in the match when Ghanaian freshman Alfred Baafi centered a ball for Damge, who then did a 180-degree turn to find the bottom left corner of the net with his right foot.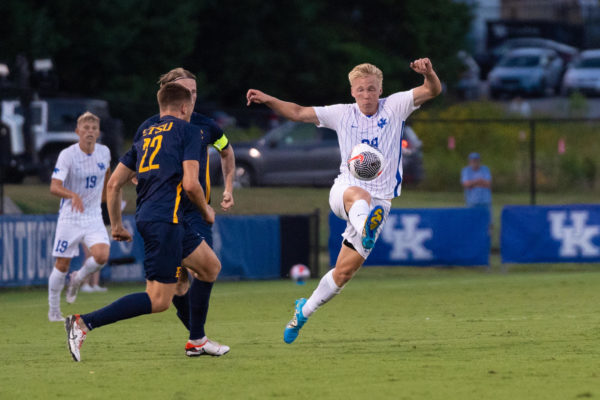 Head coach Johan Cedergren praised his sophomore forward, highlighting his ability to make something out of nothing.
"The reason why Ben Damge is on the field is (that) he can score some really magical goals," Cedergren said. "We have five or six really, really high-caliber attacking players… and Damge is just sneaky good at finding those little pockets [to score]."
As if a match-winner wasn't impressive enough for the Cats, sophomore Max Miller logged an improbable team save, stopping a 10-yard strike from ETSU redshirt senior Kieran Richards with a full extension of his right leg in the 79th minute to ultimately make Damge's goal the winning one.
The young captain was nonchalant about his goal-line clearance, a testament to his calm and collected approach to the game. 
"I mean, I'm doing my job at the end of the day," Miller said. "Not letting it go in but just doing what I can."
As for his coach, while Cedergren appreciated the play, he regretted his squad being in that position in the first place.
"It was great," Cedergren said. "Again, we caused our own problems. But I think it's really good that we didn't stop and that there were several guys that were sprinting to get back in there… If they score there, I don't know if we're going to be able to come back."
The match was physical from the opening kickoff, with both squads combining for eight fouls in the first 20 minutes. ETSU matched its physicality with aggression and recorded five first-half shots as part of their efforts to move the ball quickly.
Offensively, Kentucky was troubled by ETSU's two-man press on the ball and struggled to maintain possession.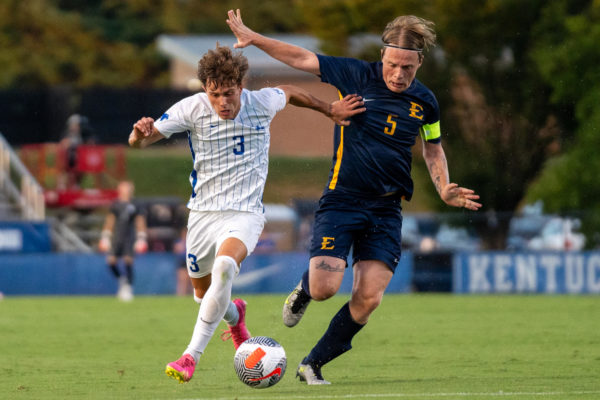 Cedergren tied the lack of offense to a lack of composure. 
"If we're going to be a team that wants to keep possession, we're going to have to make smarter decisions and we're going to have to be more composed," he said. "And that's something that starts with the coaching staff, but it's also… with the players where you should want the ball, and when you get it, you should make a smart decision. You shouldn't freak out."
Cedergren and the coaching staff responded to their offensive woes by playing direct passes forward, hoping to find space in the ETSU back-line.
"What happened today… as the game wore on, [was that] we consistently made a bad decision on the ball," Cedergren said. "So then it was easier to just say, 'Okay, we'll play it up to the forward and then we can battle for seconds.'"
Cedergren also acknowledged having luck as an added bonus. 
"You know, you've got to put your chances away and sometimes you got to ride your luck, and we definitely rode our luck today."
The Cats will spend their Labor Day weekend on the road, traveling to Wisconsin on Friday night at 8 p.m. ET before facing rivals Louisville on Tuesday, also at 8 p.m. ET. Both games can be streamed on ESPN+.
"It's going to be two really good tests for us to be on the road," Cedergren said. "But, again, I know how good of a team we have, and I know that today was not a great performance so the exciting part for me is 'Oh, let's look at the tape. Is there a couple of things that we can tweak a little bit?' and then 'Okay, how can we evolve? How can we continue to grow after the performance from today?'"