No. 10 Kentucky volleyball is slated to begin its 2023 season away from home after finishing the 2022 season 22-8 and advancing to the regional semifinals of the NCAA Tournament.
Head coach Craig Skinner, entering his 19th season leading the team, is ready for the upcoming season, though it will be one that sees the team undergo a unique issue.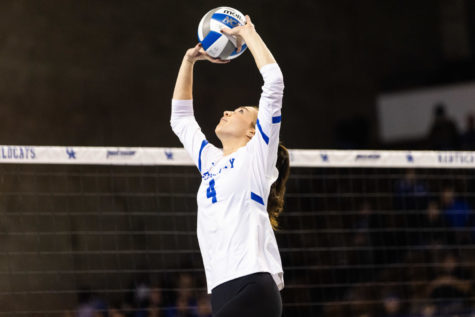 As to the nature of that issue, it certainly isn't the roster, as Kentucky volleyball is one of the most intact fall sports teams at Kentucky from last season.
Despite that, Skinner commented that the Cats have done well in practice and in its preseason match against Western Kentucky, but that he also thinks that the team needs to "find ways to be a little bit more consistent."
"Offensively, we have a chance to do some special things," he said. "We need to get a little bit better defensively and (work on) serving consistency, if you saw how many missed serves we have, but the serves that were in were tough."
Many specific Wildcats were given a shoutout by Skinner for their outstanding efforts in practice and in the preseason, with the coach even noting that his list was incomplete due to the large number of standouts.
"There's so many talented players who are making a difference right now," he said.
Notable returning players include junior Emma Grome, senior Reagan Rutherford, senior Elise Goetzinger, junior Erin Lamb and fifth year Azhani Tealer.
The unique issue for the team will be that of its home arena.
Due to renovations in Memorial Coliseum, all ten home games will be played at Rupp Arena or Transylvania University's gym if there are to be conflicts with scheduling, starting with the 84 Lumber Volleyball Classic against Pittsburgh on Sept. 1.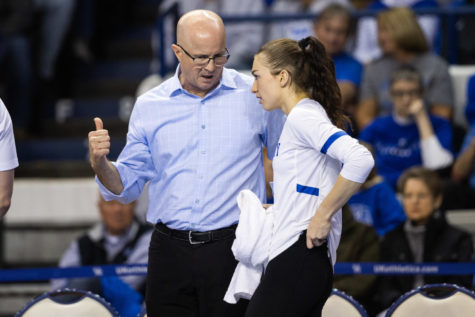 Despite not having the home the team is familiar with – that even dons the 2020 National Championship banner – Skinner is optimistic about the upcoming season at Rupp Arena.
"You wonder with that big of a place if you still feel a sporting event, and we did. Albeit different from Memorial Coliseum I think it's a great place and (I'm) looking forward to some great opportunities for our fans," he said.
Before the team can grace the court of Rupp, however, it starts its season on the road.
Although it may seem like a disadvantage for the Wildcats to start the season on the road, Skinner said that, while it is not ideal, it has its upsides.
"Some people say when you're on the road, there's no distraction other than playing the game," he said. "You're on the road, you're together as a group, you're doing your routine, it's us against the world, you know, road warriors, as a couple of our players have already said. So yes, there's advantages. You always want to be on your home court every match if possible, but there's definitely some advantage to it."
Kentucky opened its 2023 campaign on Friday, Aug. 25, against Colorado State in Fort Collins, Colorado, with a 3-1 loss before bouncing back with a 3-1 win over Northern Colorado. The Cats will return to action on Friday, Sept. 1, for their home opener against Pitt. The match will begin at 7 p.m. ET and will air live on the SEC Network.