Kentucky softball secures series victory with 7-5 win over Ole Miss Rebels
No. 15 Kentucky softball won its game against the Ole Miss Rebels 7-5 to claim the series victory in Oxford. The game was held at the Ole Miss Softball Complex.
Alexia Lacatena was the starter for UK while Grace Sparks would take the circle first for the home team. 
UK would strike first early in the first inning with a Grace Lorsung double down the left field line, which scored Kayla Kowalik and Erin Coffel to give the Cats a 2-0 lead. Ole Miss would go silent in the first.
In the bottom of the second, Ole Miss's Aynslie Furbush hit a solo home run to right center field, cutting the lead in half.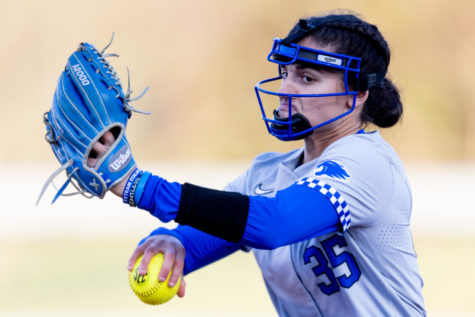 UK would respond back in the third, scoring two runs on two hits. Coffel would score on a wild pitch and a Hallie Mitchell single would plate another for the blue and white. 
Makenna Kliethermes came into the game to start the fourth inning. UK mustered up a single and a walk, but it would amount to nothing. In the Rebels' half inning, they would get a hit-by-pitch and a single, but two strikeouts would eliminate their scoring chance. 
Kentucky would go 1-2-3 in the top of the fifth and, in the bottom half of the inning, Paige Smith smacked a solo home run to center field, making it 4-2 in favor of Kentucky.
The sixth inning would start with a Meeko Harrison single. She would steal second base before Rylea Smith would walk and Kowalik would throw down a bunt. With two errors on the play, both Smith and Harrison would score and make it 6-2 for Kentucky.
With runners on the corners and a pitching change from Lacatena to Sloan Gayan, Brooke Barnard hit a single into right field, scoring Tenly Grisham. The hit would end the scoring in the sixth.
Starting the seventh, after a number of substitutions, Lorsung would hit a solo home run to left field. The Cats would go in order the rest of the inning. 
The bottom of the seventh would start off with two straight runners on, one on a hit-by-pitch and one with a walk. Two straight flyouts would occur followed by a wild pitch before Furbush would record her second hit of the game, scoring two Rebels.
A groundout would ultimately end the run and make the final score 7-5. 
Lacatena earned her ninth win of the season for her efforts in the circle.
Next up, the Cats will wrap up the series against the Rebels with a Sunday game. The game is scheduled to start at 4 p.m. and can be seen on ESPN2.