Kentucky softball players shine ahead of crucial SEC stretch
Slightly more than halfway through the regular season, No. 16 Kentucky softball (22-9-1) stands at fifth place in the SEC.
Although the Wildcats lost their last two conference series, they remain in the top half of the conference standings and are in a good position to make a potentially memorable postseason run.
The power trio of graduate student catcher Kayla Kowalik, junior infielder Erin Coffel and junior outfielder Vanessa Nesby has helped carry Kentucky offensively, with all three having batting averages over .400, which is noteworthy considering the number of games played.
Coffel herself has hit half of the Wildcats' 24 home runs so far this season, leaving opposing pitchers so intimidated that they often have no choice but to intentionally walk her.
Kowalik currently leads the team in batting average, hits and stolen bases, which is all on top of the fact that she has also broken and widened the gap of many school records.
"She has such high character," head coach Rachel Lawson said of Kowalik. "The thing is, she brings her A-game every single day. When she gets in the box, you know something good can happen, and if it doesn't, it's not because she didn't give you that effort."
Although Nesby only has one extra base hit on the season, she is a close second on the team in batting average with .444 and has proven to be fast, having scored 29 runs with nine stolen bases.
Another emerging hitter for Kentucky is junior infielder Grace Lorsung, who is second to Coffel in home runs with six, including two in the first game of the series against Texas A&M. 
Sophomore infielder Margaret Tobias, who has started every game for the Cats this season, has been another powerful player on both sides of the ball, earning applause from Coach Lawson.
"She's somebody that's kind of going under the radar," Lawson said. "She's gotten us a lot of outs when in key situations and you know, she's done a good job at the bottom of our own order flipping it over."
The pitching staff has been efficient all season as well, with junior Stephanie Schoonover and sophomore Alexia Lacatena being the main starters for Kentucky.
Schoonover has cemented her role as the team's ace as both a starter and a reliever, amassing a 12-1 record, 1.45 ERA, eight shutouts and three saves.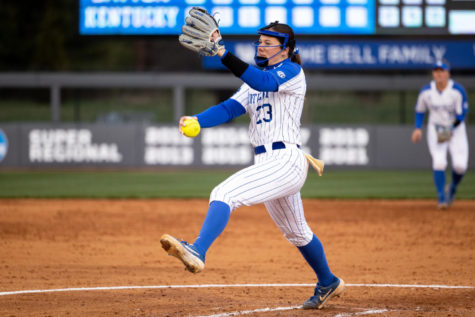 "I love starting. I love being a starting pitcher, that's my favorite thing," Schoonover said following the final game of the series against Texas A&M. "But I also love coming in when my team needs me. I feel like I enjoy the pressure, I enjoy knowing that (Lawson) has all the confidence in me to trust me in those situations."
Even with her dominant pitching, though, Schoonover has made sure to give credit to her teammates who not only are explosive forces at the plate, but also are amazing teammates off the field and, as she said, a "family."
"Pick one person on the team and they're going to tell you we play as a team," she said. "We play as a family, we love each other on and off the field and I feel like that helps a ton."
Lacatena, a sophomore who has an 8-3 record in fourteen appearances, has been the other main dominant pitcher for Kentucky this season.
The variety of talent will be integral for Kentucky going forward, as staying consistent from all aspects of the game will be the key to high performance in the stretch of SEC series that the team will face for the remainder of the regular season.
Kentucky will begin its series against Ole Miss on Friday, April 7, at 6 p.m. EST at the Ole Miss Softball Complex in Oxford, Mississippi, where it will look to earn its first SEC series win since sweeping Missouri in its first conference set.