Kentucky mens tennis sweeps Ole Miss 4-0 for sixth straight win
No. 6 Kentucky mens tennis defeated No. 33 Ole Miss 4-0 in Lexington on Friday.
The Wildcats left the Rebels scoreless in the match to advance to second in the conference and a half game back from first place.
Taha Baadi and Joshua Lapadat were the stars of the match for the Cats, with each of them notching two wins on the day.
Kentucky opened the game by taking the doubles point, as they have done for six straight matches now.
Baadi and partner Alafia Ayeni won their match at No. 1 doubles. The Wildcats' other duo of Lapadat and JJ Mercer clinched the doubles win.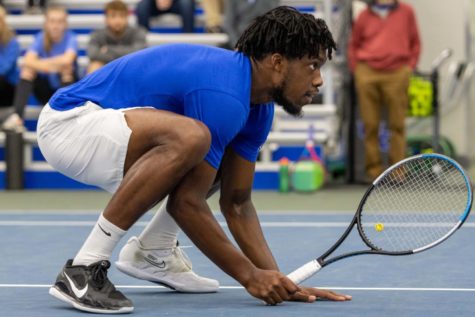 The dominance continued into the singles, with three wins in the first four sets.
Lapadat didn't allow his opponent a single game to win his singles match. The junior now has a 15-3 record in singles matches this season, including a 6-1 record in the SEC.
With the lead, Kentucky needed just one more point to seal the victory.
Liam Draxl would be the one to deliver the final blow, with a win over his opponent after winning five straight in the second frame.
The two teams elected not to play the remaining matches, ending the game 4-0 in favor of Kentucky.
Kentucky now sits at 18-2 on the season and 6-1 in SEC play.
The Wildcats will finish the two-match SEC homestand on Sunday, March. 26, against No. 12 Mississippi State. The match is slated to begin at 1 p.m. EST at the Hilary J Boone Tennis Center in Lexington, Kentucky.