No. 10 Kentucky gymnastics earns home victory against Eastern Michigan
No. 10 Kentucky gymnastics (6-2) defeated Eastern Michigan 197.125 – 193.575 at Memorial Coliseum on Friday night.
The win over the Eagles marked Kentucky's third home victory this season and third consecutive victory overall.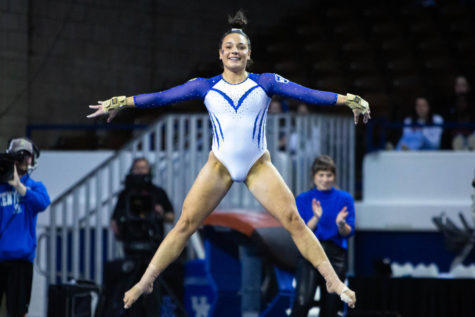 The Wildcats got off to a strong start on the vault with sophomore Makenzie Wilson and senior Raena Worley posting season highs, both scoring 9.875.
In total, Kentucky scored 49.300 on the vault, nearly a point greater than Eastern Michigan's total of 48.650.
Kentucky slightly improved their total score on the uneven bars, as 9.900 scores from seniors Kaitlin DeGuzman, Shealyn Luksik, and Worley helped the Cats achieve a combined score of 49.375.
In both the vault and uneven bars, each Wildcat scored at least a 9.800, giving them a powerful boost that eventually would lead them to victory.
On the balance beam, junior Bailey Bunn led the Cats with a score of 9.925, tying her career high. Fellow junior Isabella Magnelli earned an impressive score of 9.875 as well.
The rotation to the floor saw sophomore Jillian Procasky score a new season high of 9.850, which also matched her career high. Worley was the top scorer on the floor for the Cats, notching a 9.900.
Worley was the highest individual scorer for both the Wildcats and overall with a total of 39.475. Her all-around performance earned her 17th career and fifth season title of 2023.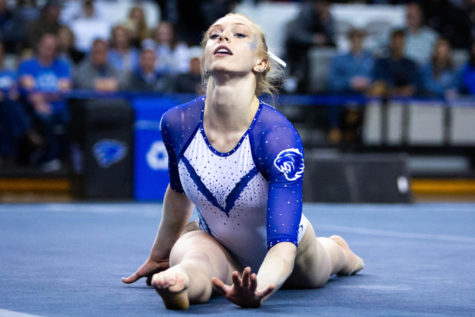 Kentucky will hope to continue their winning ways at home against Arkansas on Friday, Feb. 17, inside Memorial Coliseum. The meet will begin at 8:30 p.m. EST.