Chris Livingston continues to prove his worth in victory over Tennessee
The talent has always been there, but the true force and determination of this Wildcats basketball team seems to have finally emerged.
Saturday's home rematch against the No. 10 Tennessee Volunteers was a matchup that Rupp Arena was eagerly anticipating, packing the stands prior to the opening tip off. 
Entering the game having already defeated Tennessee in Knoxville, John Calipari and his team knew that they would have to be perfect, especially after the Vols' win over No. 1 Alabama just prior to the rematch. 
Looking closer at specific Wildcats, Chris Livingston is a player that has always earned minutes throughout the season but had yet to truly become a true focal point of Calipari's team.
That said, with the loss of CJ Fredrick to injury, Livingston was forced to step up into a much more demanding role, tasked with playing for the majority of several games and being charged with defending some of the most athletic players in the conference.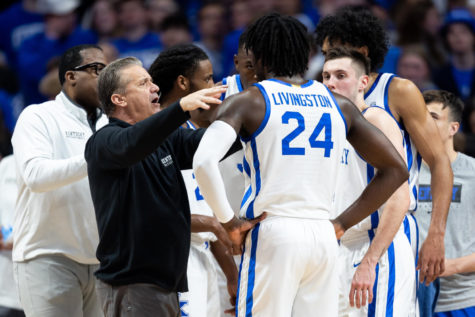 Livingston opted to make the most of his opportunity though, putting up consistent numbers both offensively and defensively. 
Entering the game with a 47% field goal average and 89 total rebounds, Livingston has since become a true small forward, a position that requires height and a solid mix of driving to the basket and finding open spots beyond the arc.
Livingston showed out against the Vols, finishing with 12 points and 10 rebounds, his first career double-double in the first game of the season in which he recorded a double-digit rebounding total. 
Calipari was impressed by the freshman, hinting that his increased amount of game time and contributions were due to his heart and intensity during practices. 
"He was doing it in practice and then you gotta have a demonstrated performance in the game," Calipari said. "He's now that guy. Now part of it is that CJ (Fredrick) is out, but the way that he is playing now, people coming back are gonna be fighting for minutes too because he needs to be on the court."
Livingston demonstrated proficiency in nearly every aspect of the game, knocking down his only attempt from three, registering an assist and coming down with seven defensive rebounds and three offensive rebounds.
Despite all of that, arguably Livingston's biggest advantage on the court is his intelligence that Calipari continues to credit him for and his ability to stay mentally tough and dialed in on the game.
"Being able to be locked in with your teammates and the calls that they call, you know, understanding the game plan, learning the scheme on defense and things like that is being locked in," Livingston said.
Livingston was not without any flaws in the win however, as he did struggle from the free throw line. That said, his performance was an outlier from an otherwise solid team display from the line.
Livingston's 3-7 from the charity stripe marked the second-lowest percentage on the team, with only Antonio Reeves shooting worse (1-4).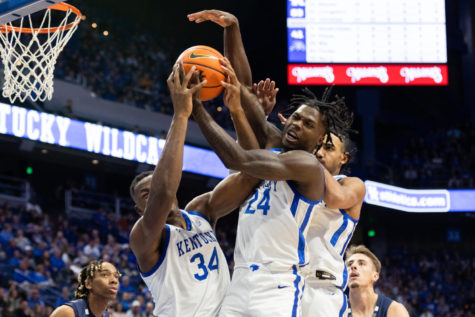 While that could have been a hindrance, the positive from the situation was his willingness to attack the basket and draw fouls. As a career 81% free-throw shooter, it's likely Calipari would rather he draw fouls with the risk of not making them as opposed to playing passive.
Seeing 36 minutes on the court, finishing with a positive 16 as his plus/minus while on the floor, Livingston continued to prove to Calipari that he is capable of contributing to the success and chemistry of the team.
 "That comes with just being more comfortable, being more comfortable with the guys that you are out there on the court with," Livingston said. "When you're closer to your teammates, you're able to hold your own with the guys that you're with, because you know they're not going to take it personal, they're gonna be constructive." 
Entering the home stretch of the regular season, the Cats are still fighting for a place in this year's iteration of the NCAA tournament, though Livingston remained humble, saying he just wants to win games and is oblivious to the "quadrant win" system. 
"To be honest, I don't even know how it works," Livingston said. "I just know that we have to win. Just trying to win as much as possible. Talking about 'quad wins' and things like that, like I don't even know what that means. Just trying to win." 
With just four games left in the season, Livingston and the rest of the Cats are slated to do battle with the Florida Gators in Gainesville with hopes of securing another conference sweep.
Tip-off from Gainesville is scheduled for Wednesday, Feb. 22, at 7 p.m. EST and will air live on ESPN.