Kentucky mens basketball fights its way to quadrant-1 win over Mississippi State
Kentucky mens basketball defeated the Mississippi State Bulldogs 71-68 in Starkville, Mississippi, in what was a much-needed win for the Wildcats as they approach the home stretch of league play.
The victory marked Kentucky's second quadrant-1 win as the Cats advanced to 17-9 on the season and 8-5 in the SEC.
With four Wildcats putting up double digits against the Bulldogs in light of contributing players CJ Fredrick and Sahvir Wheeler both having to sit out due to injury, the team put up a fight that players and coaches alike took notice of.
"The biggest thing I've been talking about to them is 'refuse to lose,'" head coach John Calipari said. "You may run out of time but refuse to lose. Just keep fighting. I thought it was a hard-fought game for both teams."
Freshman forward Chris Livingston proved that he kept that "refuse to lose" mentality, which helped him push forward until the final buzzer.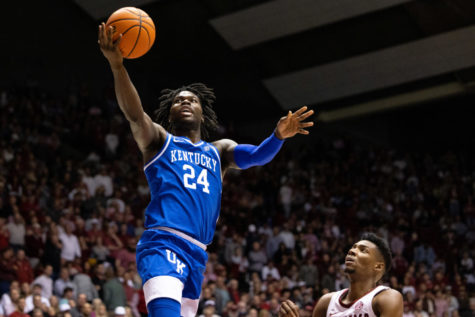 "Down the second half stretch with about seven minutes left, that was all we were saying, refusing to lose," Livingston said. "When it hit four minutes we said, 'It's winning time.' It's that time of the season."
Kentucky went on a crucial 18-2 run over the Bulldogs with eight minutes left in half that would ultimately put MSU in a hole it wouldn't be able to overcome. Then the team continued to battle as MSU worked to close the gap to 66-64 with 40 seconds left in the game.
The Wildcats would finish the game dominating on the boards as the team racked up a total of 38 rebounds compared to the 22 recorded by Mississippi State.
Oscar Tshiebwe led the team with 18 points and 11 rebounds, reaching his 15th double-double of the season and 43rd of his career with Kentucky.
His performance was complimented by 16 points from Jacob Toppin, 14 points from Antonio Reeves and 13 put up by Livingston.
Although freshman point guard Cason Wallace struggled in Kentucky's past two games on the offensive end, putting up five points against Georgia last week and four points against the Bulldogs, he contributed 11 assists against Mississippi State, a noteworthy figure for Kentucky in the absence of Wheeler.
"He (Wallace) was one for 13, but he had 11 assists," Calipari said. "And he defended. The biggest rebounds (were the ones) Cason came up with."
As a team the Cats shot 45.5% (25-55) from the field and 30% (6-20) from beyond the arc.
The team's offensive success against a team that ranks highly in defensive efficiency was not only a joy for Big Blue Nation to see, but also for the players themselves to remember what they are capable of.
"That's one thing about us, we're never going to back down," Toppin said. "We're in a hole right now, but we're going to dig out of it. We believe we're going to dig out of it. We're a great group of guys who are going to stay together, and we're going to continue to fight to the end. We're going to figure this out and turn it around. It started today, we got a good (win)."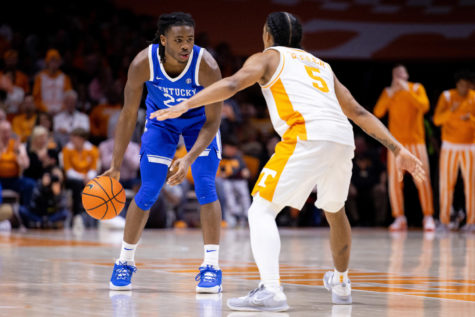 Kentucky's win came in a rowdy Humphrey Coliseum, meaning that both of the Wildcats' quadrant-1 wins have come on the road, with the first being in Knoxville against No. 5 Tennessee in Thompson-Boling Arena.
The weighted win was much needed for Kentucky as it heads into the weekend preparing to take on No. 10 Tennessee for the second time, with the matchup set to be hosted by the Wildcats in Lexington, Kentucky, this time.
After a tough-to-swallow loss to Georgia last week began to seriously threaten Kentucky's future in the NCAA tournament, a third quadrant-1 win for the Cats would put them in much better standings heading into March.
The Wildcats and the Volunteers will take the court on Saturday, Feb. 18, inside Rupp Arena. Tip-off is scheduled for 1 p.m. EST and will be aired live on CBS.