No. 10 Kentucky takes down No. 14 Missouri on the road
No. 10 Kentucky (5-2) earned its second conference win in a row on Friday as they took down No. 14 Missouri (4-2) at the Tiger Performance Complex in Columbia, Missouri. 
Kentucky kicked off the night on the uneven bars with junior Hailey Davis leading off with a score of 9.800. Junior Bailey Bunn scored a season-high 9.875, along with sophomore Annie Riegert who posted a career-high 9.850. 
The Wildcats took the lead after the second rotation as they moved on to vault behind a career-high of 9.950 from senior Reana Worley. Senior Ashlyn LaClair also scored a career-best posting a score of 9.825.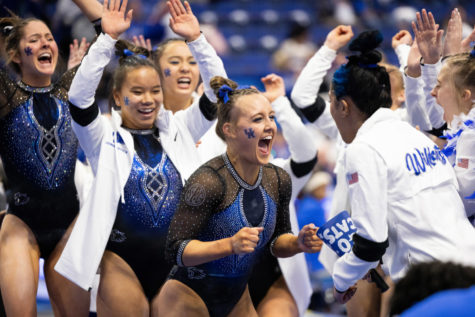 Kentucky took command after the third rotation, opening up a .675 lead after all six Wildcats did not score below 9.800 on the floor. Davis and Worley both scored a 9.900 or better with Worley scoring a career-high 9.950. 
The Cats kept it rolling as they rounded out the night on the balance beam with three Wildcats scoring a 9.900 or above. Bunn posted a season-high of 9.900, along with junior Isabella Magnelli and Worley who posted respective scores of 9.950 and 9.925. 
Magnelli scored a career-high 9.975 last week when Kentucky set a new program record of 197.825. 
Worley stayed dominant on the road taking her fourth overall scoring title in five competitions, scoring a season-high 39.700. Worley was named SEC gymnast of the week, winning her sixth SEC gymnast of the week and her first this season.  
The win brings Kentucky's record to 5-2. The Wildcats will look to keep the hot streak going as they travel home to take on Eastern Michigan at Memorial Coliseum on Friday, Feb. 10 at 7 p.m. EST.