Across the (By)Line: Vanderbilt Commodores basketball
The "Across the (By)Line" series will give Kentucky basketball fans an in-depth look at their opponent for this week — from the mind of the opposing school's sports editor.
This week: The Vanderbilt Hustler, Lucas Rollfinke, Vanderbilt
Do you think Kentucky fans are underrating Vanderbilt heading into the matchup?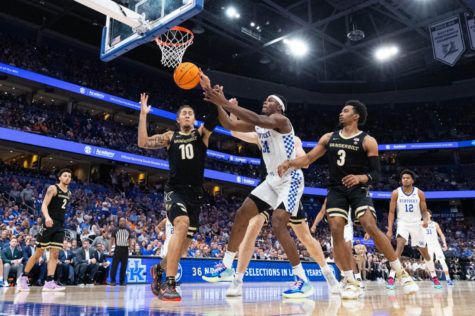 Absolutely. Vanderbilt got off to a disappointing 5-6 start that included some bad losses to teams like Southern Miss and Grambling State. Because of that, the Commodores earned a poor reputation in the eyes of both the fans and the media. However, since the start of conference play, they have looked like a completely different team, taking down Arkansas and Georgia and playing close games against Tennessee and Alabama, two consensus top-10 teams. It took some time for Vanderbilt to find a new identity that didn't rely on the playmaking ability of Scotty Pippen Jr., but now that it has, this team is just starting to hit its stride. Kentucky certainly has the upper hand entering this matchup but don't be surprised if the Commodores keep things close enough to give Wildcat fans a scare late in the second half.
How much will the absences of Liam Robbins and Lee Dort hurt the Commodores?
If you had watched Vanderbilt play Georgia on Saturday, you wouldn't have even known the Commodores were playing without two of their top big men. Thanks to a combination of solid play from fifth-year senior Quentin Millora-Brown and a "small-ball" lineup that saw junior Myles Stute, who is primarily a 3-point shooter, move down low, the offense was able to operate smoothly and efficiently. While this same strategy could enable Vanderbilt to put up points against Kentucky, I think the absences of Robbins and Dort will really be felt on the defensive end. Vanderbilt is already one of the worst defensive teams in the nation, ranking 157th in adjusted defensive efficiency according to KenPom. If it accounted for the injuries to Robbins and Dort, who have combined to average almost four blocks per game, I imagine this ranking would be significantly lower. Unless head coach Jerry Stackhouse can come up with a brilliant plan to keep Kentucky from dominating in the paint, I'm not sure how Vanderbilt can keep the Wildcats from scoring at will.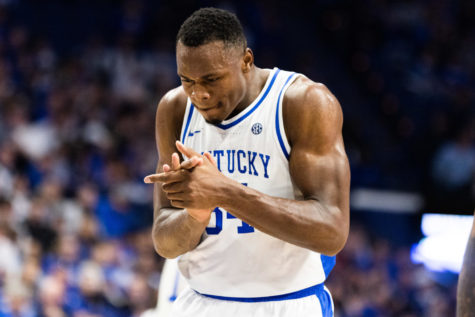 Last year Oscar Tshiebwe dominated the game in Nashville. Do you think Vandy will be better prepared for him this year?
If you had asked me this question a few weeks ago, I would've said that Vanderbilt can absolutely limit Tshiebwe's ability to take over a game and force Kentucky to play through their guards. However, with the injuries to Dort and Robbins, I don't see a scenario in which the Commodores keep "Big O" under 20 points. Given the Commodores lack of depth at forward, I expect Kentucky to attack down low early and often to get Millora-Brown in foul trouble and force Vanderbilt into a smaller lineup. That should lead to plenty of opportunities for Tshiebwe to put points on the board. Furthermore, if Vanderbilt utilizes a smaller lineup, they will likely need to bring extra help inside to guard the reigning NCAA College Basketball Player of the Year. This would open up shooters on the perimeter, so even if Tshiebwe doesn't have his best game statistically, his impact will still be felt. 
What do you think the final result will be when these teams face off?
Similar to what has happened the last few times these teams have met, I expect Kentucky to take an early lead that it will cling to despite a strong second-half effort from the Commodores. Give me the Wildcats by a final score of 82-77.