Kentucky baseball prepares for grueling road gauntlet as top 10 team
No. 10 Kentucky baseball defeated Dayton 13-6 at Kentucky Proud Park on Tuesday, with the win marking the last time Kentucky will play at home until April 18.
Prior to that home game against Xavier, Kentucky will endure a grueling seven-game stretch on the road that will likely see the "Bat Cats" take on their toughest test of the season.
Kicking things off on Friday, April 7, the Wildcats travel to Athens, Georgia, for a three-game series against the Georgia Bulldogs.
Kentucky had yet to lose a conference series thus far this year, but Georgia is not one to take lightly, despite standing at 1-8 in conference play.
The Bulldogs were swept by both the No. 6 South Carolina Gamecocks and the No. 4 Vanderbilt Commodores.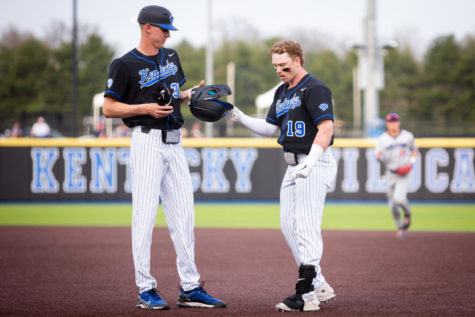 The only conference series against an unranked opponent for the Bulldogs was a 2-1 series loss against Auburn.
Despite the poor form, Georgia battled close with South Carolina in game one, falling just 5-4, suffering both losses to Auburn by three or less runs, including a 7-6 loss in extra innings, before obliterating the Tigers 24-7 for its lone SEC win.
On top of that, it managed to hold Vanderbilt to just four runs in the series finale against the Commodores.
All of the results come together to demonstrate that, while Georgia may be alone at the bottom of the SEC East, the Bulldogs are capable of performing against ranked opponents and should not be underestimated by Kentucky.
Following the series in Athens, Kentucky is set to travel to face its biggest rivals on Tuesday: No. 18 Louisville at Louisville.
The Cardinals will enter the game after a series against No. 9 Boston College, meaning that the team will either be facing Kentucky on a three-series losing streak and will be looking for a key bounce-back opportunity, or it will be entering the game red hot after stunning a top 10 opponent.
Either way, Kentucky won't be able to take it lightly, having gotten into a bit of trouble in its recent midweek games, being tied with Dayton until explosive late innings and needing a rally to overcome Western Kentucky 10-8.
Heading into the weekend post-Louisville, things will only get harder for the Cats, who travel to Baton Rouge to face off against No. 1 LSU.
The Tigers have yet to lose a conference series, overcoming formerly ranked Texas A&M 2-1, No. 5 Arkansas 2-1 and No. 11 Tennessee 2-1.
While LSU has yet to sweep an SEC series, it has recorded dominant wins in the process, beating the Aggies 9-0 in game one, Arkansas 12-2 in seven innings and 14-5 in games two and three and Tennessee by a combined 11-6 in games one and two.
Outside of conference play, LSU also defeated No. 21 Texas 3-0 in late February, further adding to its legitimacy.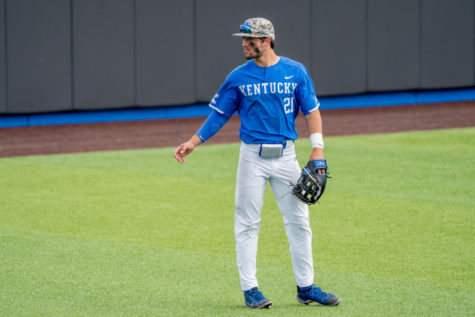 Suffice to say, Kentucky has a difficult road ahead of it if it wants to rebuild what was once the longest winning streak in Division-1 baseball.
Despite the challenge, it's far from all doom and gloom for the Cats, who have handled every team that has come their way, resulting in UK holding the second highest win percentage in Division-1 baseball (.897), the fourth highest on base percentage (.442) and the fifth lowest ERA across pitchers (3.11).
The efforts all led to Kentucky being ranked within the top 10 in the D1Baseball Top 25 on Monday.
Now, with momentum on its side, one question remains for Kentucky: now that it's been given the respect of earning a top 10 ranking, can it continue to prove that it belongs there and that it can truly compete with the best of the best?
Game one against Georgia is set to begin at 6 p.m. EST on Friday, April 7, at Foley Field in Athens, Georgia. The game is set to air live on the SEC Network+.