Kentucky baseball defeats Missouri 3-1 to secure series sweep, improves to 8-1 in SEC
No. 18 Kentucky baseball defeated Missouri 3-1 on Sunday to sweep the Tigers.
Pitcher Mason Moore was given the winning decision for Kentucky, pitching two innings and allowing no runs or hits.
Kentucky's defense was standout in this game, with the Tigers leaving 16 men stranded on base. The defense's performance was highlighted by a number of highlight-reel plays, such as a diving unassisted groundout by first baseman Hunter Gilliam and a diving catch made by center fielder Jackson Gray.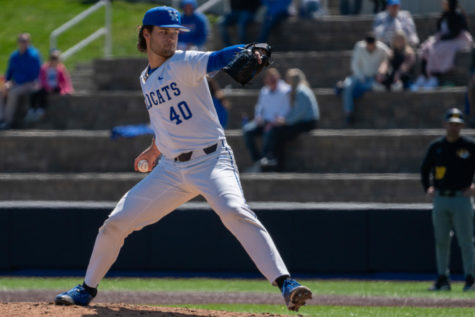 "It was game saving," head coach Nick Mingione said. "You think about the diving play that [Gilliam] made that took a couple runs off the board (and) what about the diving play that [Gray] made in centerfield? That was a great play."
Pitcher Zach Hise, a transfer from Missouri, played a big role in helping the Cats defeat his former team. The Sophomore pitched 1.1 innings, allowing just one hit and no runs.
"I was definitely a little more excited than usual, but you just gotta keep your cool down and get ready for the game," Hise said.
The game would start relatively slow, with both defenses showing out for the first two innings. The scoring would start in the bottom of the third when Gray scored off of back-to-back errors committed by Missouri.
The Tigers would respond in the top of the fifth inning as Justin Colon would score off of a single from Trevor Austin. The Wildcats would respond right back with a run of their own when Nolan McCarthy scored off a single from Grant Smith to make it 2-1 in favor of UK.
Kentucky would add onto its lead in the bottom of the eighth as a single from Jackson Gray came all the way around to score due to a hit by pitch, two walks and a sacrifice fly.
Missouri would make a run to get back in the game when it found itself with the bases loaded and two outs, being one swing away from tying the game or even taking the lead.
It was then that Mingione brought in Seth Chavez, who would get the save, to pitch the final out to secure the win for the Cats.
With the win Kentucky now stands at 25-3 on the season, which is far better than initially expected.
"I remember a time back in the fall where I challenged our guys to act like champions before (they're) champions," Mingione said. "That would be really important to us the way we carried ourselves, the way we walked around, and I think obviously this team is showing that."
Kentucky will get Monday off before taking on Dayton on Tuesday. First pitch against the Flyers is set for 6:30 PM and will be the last home game for Kentucky before a seven-game road trip.