'If you have faith, you have everything.' Oscar Tshiebwe finds God on and off the basketball court
Going from growing up in a hometown over 7,000 miles away to finding a home in Kentucky basketball, Oscar Tshiebwe traveled to America with very little English but a lot of faith in God.
Discovered in the small town of Lubumbashi in the Democratic Republic of the Congo, Tshiebwe could have never imagined how much he was going to touch the hearts of the University of Kentucky community. 
The 6'9" senior started his collegiate career with the desire to help as many people as he could. He said it wasn't until he was welcomed with open arms into Big Blue Nation that Tshiebwe realized how God wanted to use him to spread his message. 
"When I transferred to Kentucky, I used to be a little shy. I didn't speak much, just listened and stayed away from groups of people," Tshiebwe said. "But once God started getting people more attracted to me, I said, 'How can I help these people?'" 
Before coming to Kentucky, Tshiebwe created a social media account to post Bible verses to keep him encouraged in his faith. Once the account became popular with people in Lexington, he saw an opportunity to connect with the community outside of basketball. 
"It gives me more courage every time I stand in front of people and speak about God," Tshiebwe said. "People are receiving my message and really accepting it, and it makes me say, 'Wow.' I have another gift of speaking, so let me just continue to do that, and I love it."
While it is evident that the 2022 Consensus National Player of the Year has the gift of basketball, Tshiebwe spent the majority of his youth kicking a ball instead of dribbling it.
When Tshiebwe began to skyrocket several inches as a teenager, his friends told him he needed to pick up basketball if he ever dreamed of going to America.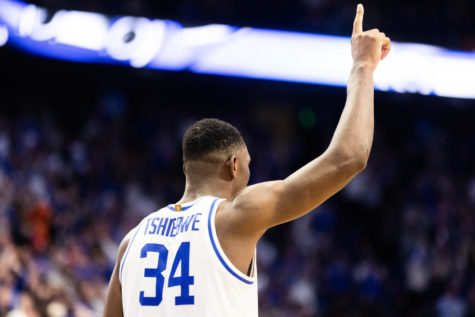 Showing up to the court with no experience and still wearing his soccer cleats, Tshiebwe practiced until four in the morning while skipping school for weeks, determined to stand out when college recruiters came to his town.
"Leave me alone. I trust in God," Tshiebwe would respond to the players who told him to get off the court because he would never become good enough in time.
Yet, two months later, the high schooler found himself on a plane to New York City to play basketball in America.
It was there when Tshiebwe would watch Kentucky basketball play on television for the first time, sitting in a hotel room with other high school players who told him that only the best of the best five-star players in America play for Kentucky.
Only being in the states for a few weeks, Tshiebwe had just one thought after watching the Wildcats.
"It's going to be tough, but I'm going to start for Kentucky one day," Tshiebwe said.
Although Tshiebwe's trust in God encouraged him to stay confident in his basketball abilities, he said his faith was not always steadfast. Tshiebwe was just a boy when his father died, causing him to question his beliefs.
"When I lost my dad, life was tough. I lost some faith," Tshiebwe said. "If God loved us so much, why would he take away my dad who was the holy one for us and who provided?"
Tshiebwe's father worked as a preacher at the New Apostolic Church where his entire family would attend. Through his struggles, it was his father's words that got him through the most doubtful time in his life.
"There's one thing my dad used to tell me — there's one thing in life and if you lose it, you have nothing left," Tshiebwe said. "If you lose your faith in God, you have nothing left in life. You can lose everything, but if you have faith, you have everything."
When flooding devastated Eastern Kentucky in 2022 and tornadoes tore through Western Kentucky in 2021, Tshiebwe and the rest of the Kentucky mens basketball team traveled to different areas of disaster to help the communities.
Tshiebwe said he drew from his experiences with trauma in his past to share with the impacted communities that God is always there for them, even in times of suffering.
"Sometimes God will send a storm not to destroy you, but to clean up all of the things around you," Tshiebwe said. "Sometimes God tests us. His plan is not to harm us, but to give us hope. Sometimes God will let you be so down, so that he can raise you up to the top."
Tshiebwe knew exactly what God planned for him when a door was opened to transfer to Kentucky for the 2021-2022 season.
Since then, the basketball star has captured the love of college basketball fans in Kentucky and throughout the nation with the talent and character he brings to the court.
"Sometimes we have to know what things we've been praying for that God is reserving for us," Tshiebwe said. "If He doesn't give it to you then maybe he is protecting you. But the thing I was praying for, God gave to me, and now I'm in Kentucky."
From a small town in the Congo, Tshiebwe has found a home in the hearts of Big Blue Nation where his faith is known for making up more of him than just basketball.