Oscar Tshiebwe notches 1,000 career-points at Kentucky in Florida win
Kentucky big man Oscar Tshiebwe shined in Wednesday's 82-74 win over Florida, leading all scorers with 25 points.
The 25 points were significant for another reason though, as they saw Tshiebwe secure his 1,000th point as a Kentucky Wildcat.
Tshiebwe knocked down a jumper just behind the free throw line that banked into the net to notch the achievement.
Making the figure more impressive is that Tshiebwe reached 1,000 points in just 60 games for Kentucky, having started his collegiate career at West Virginia before transferring to Lexington.
Tshiebwe is averaging 16.7 points per game for Kentucky so far, which helped him reach 1,000 points so quickly.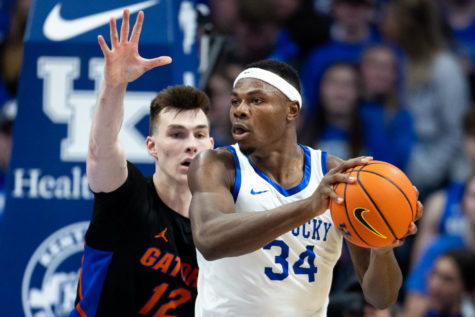 Tshiebwe joined a list of 60 other UK basketball players in the 1,000-point club. He also became the first player to join the elusive group since Doron Lamb and Terrance Jones of the 2011-12 National Championship team, making him just the third player of the John Calipari era to surpass 1,000 points.
Tshiebwe also jumped up to eighth all time in career rebounds, having notched number 844 for his UK career.
Unfortunately for "Big O", he still sits over 1,000 points away from the all-time points record, held by Dan Issel, who has 2,138 career points across 83 games at UK. Issel is also the all-time leading rebounder with 1,078.
Tshiebwe's 25-point performance comes after a rather disappointing four-point performance against Florida in the pair's first meetup of the season, though it is worth noting that Florida's Colin Castleton did not play in the second matchup after suffering a hand fracture.
Tshiebwe and the Cats will have a chance to earn another win during an important stretch of games as they face off against Auburn on Saturday inside Rupp Arena.
Tipoff against the Tigers is scheduled for 4 p.m. EST and will air live on CBS.